There's nothing better than sitting back and tasting the fruit of your labor. And after one morning earlier this week, I can now happily say that I know what it feels like to toke my own, homegrown bud.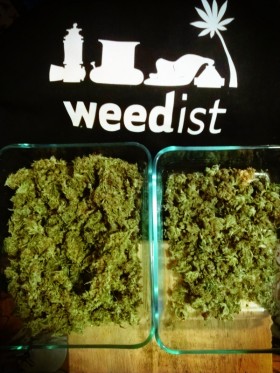 After a little more than 3 months growing cannabis in a kitchen closet in my studio apartment in Denver, I've got a fully grown, dried, and cured crop of marijuana.
It's been a great experience getting to watch clones bought from a local Colorado medical marijuana dispensary grow into full plants with big colas and some nice looking buds. Five years ago, this would have been a much difference experience; but in a post-64 Colorado where the medical marijuana trade is such a booming industry and the recreational retail market looms on the horizon, my experience just shows that growing marijuana is no longer an illegal, underground activity but rather something that can and should be a common practice.
I've been using Jorge Cervantes's Bible as a reference during a majority of this process, and a good tip I picked up from the section on harvest was to wait until the branches were stiff enough to break in half. Since marijuana plants take about 5-7 days to fully dry, I checked at day 5 to see if it was time to fully cut them off the branches. I could tell that they still had some moisture in there because the branches bent slowly and reluctantly.
When I checked a week exactly after I had cut down the plants, a branch broke exactly the way I was expecting it would, which is when I knew it was time to get the buds in jars.
I was planning on using glass jars to cure the bud, but after looking around at a few hardware stores, I couldn't seem to just buy any less than 6 jars in a package. I don't really need that many since I knew that the harvest would only be a few ounces and  I definitely wanted to use fresh glass (which ruled out going to a Goodwill or similar store and finding a few older jars or getting them from a friend), so I decided to go with the much cheaper option of buying two Pyrex containers from the grocery store.
Last week's post was written after I cut down the plants and did some initial trimming, pulling off the really big fan leaves and then hanging the plants upside down in the closet to dry.
It's been 5 days since I put the harvested bud in an airtight container. I will say that the bud was already pretty dry to begin with; working in the Colorado medical marijuana industry has given me a pretty good eye for when bud is very wet, and both strains were already more dry than fluffy by the time I cut them down.
I'll admit that my trimming leaves is something to be desired. Since I'm only planning on smoking it myself and giving it away to friends, I wasn't too concerned about the look of the buds. After several hours doing a final trim while watching TV, I decided that passable was going to be good enough for now.
Here are the final stats on the yield and taste of both plants:
Triple Diesel
On first taste, definitely got the characteristic Sour Diesel taste. There were a few dense nugs, but unfortunately the biggest cola did have a good deal of yellow, light shocked leaves. This just meant that the biggest, best nug has mostly yellow leaves that probably won't taste as good. However, some of the smaller nugs I've already tried have been very stoney and nice.
I've heard that Triple Diesel has a good deal of THC-V, a cannabanoid that is actually supposed to suppress hunger, or essentially have an "anti-munchies" effect. I definitely feel that in this smoke, as the first few times I've tried it so far have left my body feeling great, with not too much of the high that typically makes me want to just indulge. Definitely a good strain for daytime use.
Final yield: 26. 7 grams. A bit shy of an ounce, but still not too shabby for a first time.
Third Dimension
Most definitely the better of the two, I've got to give some credit to my good friend The Wizard, who gave me this plant while it was in veg. A total monster considering it was grown in such a small space, this has a nice citrus smell and some very sticky, bright green buds with lots of red hairs.
Final yield: 71.7 grams. O yeah!
I've got a nice stash that should last me for a few weeks at least. Tune in next week for the final installment of this series on growing your own cannabis!
Prospero's Grow – 15 Week Series: