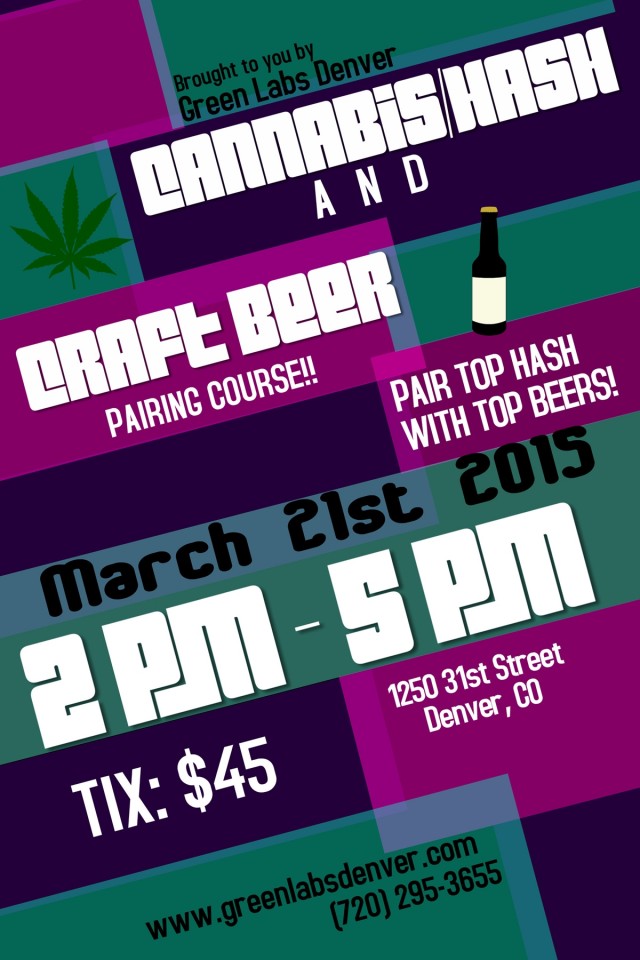 UPDATE: This class has been rescheduled for Saturday, April 18th due to unforeseen circumstances. 
Colorado is a prime city for the new field of cannabis-themed events for adults that has been taking off and taking shape in the last year.
Green Labs is home to some of the best Denver cannabis events, as I recently got to experience when I attended a Sushi/Joint Rolling class. This Saturday, March 21st, Green Labs will be hosting a Beer and Cannabis Pairing class, combining one booming Colorado industry with another.
We had the chance to speak with Ed Hass, the mastermind behind the class.
After reading your blog and the event descriptions, my first question is how you first came to be a connoisseur of these (if I may) mixed-media flavors. How long has cannabis and beer pairing been a passion of yours? Was there anything specific that led you to start a pairing event like this?
EH: Great question! I've been trying to pair different strains of marijuana and hash with craft beers since I moved to Denver in early 2012. At the time, there was a particular kind of water hash made by Essential Extracts that was able to retain the terpene flavor characteristics of the original marijuana plant better than anyone else had done before.
Their methods would allow a Lemon G strain to carry over the citrus and lemony flavors from the plant and hone in on them when the hash was created. Extremely clean BHO, depending on the extractor, also is able to hone in and exploit most of these terpene flavors. The first time I really did it with any seriousness, I had a bottle of Pliny the Elder from Russian River Brewing, it's a double IPA that has incredible hop flavors, and I paired that with a hash (the actual name of it escapes me) that had immense pine and forest flavors when smoked.
The two when paired created this whole new world of flavor between the two that I don't think existed before the craft beer boom and the local marijuana boom took effect here.
Is there any particular information you want people to know specifically about what to expect from this event? It seems like a beer tasting that might happen at a nicer brewery with cannabis in the mix as well. Is that  accurate, or will it be more of a seminar-style lecture event?
EH: What I want people to know about coming to the event is that we're going to try and emulate how a craft beer dinner works. There will be 3 courses, and I'll do an introduction to the pairings, one at a time, explaining why I chose the beer and the hash, and what to look for when they themselves start to taste both.  I'll probably also do a small introduction to terpenes — what they are and how they affect the aroma and flavors of the hash. Three different beers, paired with 3 different hashes. We're going for the highest quality of both that we can acquire, so you won't be showing up to this event pairing Sam Adams with some brown crumble hash.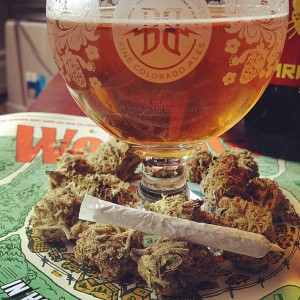 Have you partnered with any breweries and/or dispensaries to supply samples?
EH: Green Labs and I are currently talking to a number of dispensaries and breweries about possibly sponsoring the event, but I don't want to give any names just yet, as we're still waiting to hear back from some places.
I know that Green Labs is a great space for this kind of event, but I'm really curious what steps you needed to take to get this cleared by the city/county of Denver. Have they expressed any reservations about combining alcohol and cannabis at the same event? Were there many bureaucratic hoops to jump through?
EH: No hoops to jump through at all actually. Green Labs operates solely as a private venue, which allows them, due to the size of their business, to have private parties where 50-80 people can pay and enjoy the best of either world without legal recourse. It's the equivalent of someone throwing a house party and charging money to get entrance. Green Labs has done a wine and cannabis pairing in the past and they were able to achieve that through the fact that the event was a paid and private ordeal.
It's a loophole that other businesses, GrassRoots Breakroom comes to mind, use to get around the terrible 'no MJ clubs' rule that was a part of Amendment 64. Also, being that the event is covering only 3 courses over 3 hours, I don't expect people to get as buzzed as they would at a beer festival or a Cannabis Cup, and as always, people should be prepared though with a taxi, a designated driver, or Uber in case they get too intoxicated.
Looking at your blog, I see you've done a few of these events in the past. Do you have any plans to turn this into a regularly occurring event?
EH: I did throw one event about a year ago with my friends at Cannabase, which we believe was the first craft beer and hash pairing thrown as an event, anywhere ever. That was a great time, and good learning experience. There have been discussions about possibly turning the pairings into a bi-weekly or monthly thing, but we want to see how this one turns out before making any future plans beyond that date.
Ed's blog "Stirring the Pot" is great reading for anyone wanting more information on the interesting field of beer and cannabis pairings. Here is the link to register for the class at Green Labs on March 21 at 2pm.