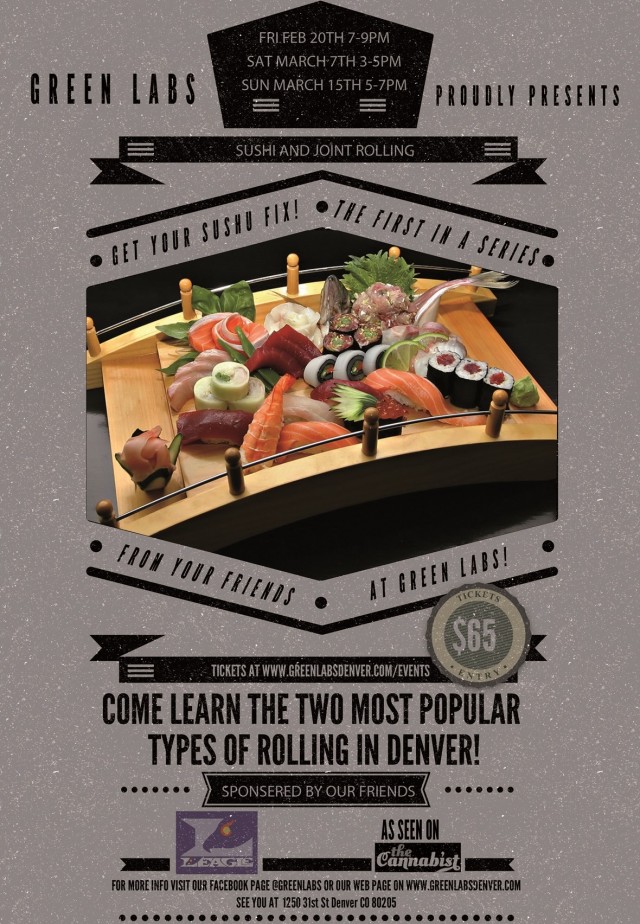 Working in the legal Colorado marijuana industry for nearly the last three years, I get to do all kinds of things on a regular basis that most weedists can only dream of doing. Dealing with (literally) pounds of fresh flower, concentrates and edibles before I've even had my morning coffee every workday has become a normal thing for me, so it's still very exciting when I get to do something that reminds me how lucky I am to live in a state that allows recreational and medical marijuana.
The most recent event I had the chance to attend was a sushi/joint-rolling class at Green Labs in Denver.
Green Labs is the kind of building that has come to define Denver in 2015. It's a plain-looking structure with light green paint and an innocuous sign that I've passed by dozens of times, never suspecting that the interior is nothing but modern, hip, and host to some of the best cannabis-themed events in the country. When I arrived for the afternoon class, I was greeted by Green Lab's event manager Brett, who was buzzing around trying to put the final touches on everything.
Brett explained that they hold about 4-5 events a week; everything from a cannabis-themed painting class to their upcoming beer-and-cannabis-pairing tasting event. He was a bit on edge about the fact that so many people RSVP'd at the last-minute for that particular afternoon's sushi/joint-rolling class.
When I offered that too many people signing up was a good problem to have, he agreed but said that they prefer to have events that are more "intimate… because people want to do something social that isn't at a bar. As soon as it gets too crowded, people feel like they're out at a loud bar and that's not what we want to do here."
After getting a glass of sake and socializing for a few minutes, we were ushered into a room with tables and chairs set up for a joint-rolling seminar. With both cannabis and instruction provided by Denver dispensary L'Eagle, the class was a basic 101 on how to roll your basic doobie. I've gone on record several times before here on Weedist about how terrible I am at rolling joints, so this was a welcome hands-on class that could give me some much-needed skills.
Despite assistance from the extremely helpful Amy, Charlie, and Addison of L'Eagle, I only managed to roll a few very sad-looking joints, but did leave with several good pointers for the future (if you can master the tuck right before you roll it up, you've got the key!)
After blazing up the fruit of our education on Green Lab's open patio, we were then ushered back inside to the kitchen area, where we were given the chance to roll our own sushi. With fresh rice, veggies, and shrimp in front of us, we were guided through the process, which as you can imagine, has similar characteristics to that of rolling a joint. You have to space out your ingredients evenly, use only the best quality product if you want a great final result, and be careful not to over or under pack your roll.
Brett told us that the best roll of the day would win two tickets to the next event at Green Labs, though several participants cheekily cried foul that we should have been allowed to do the sushi rolling portion of class before smoking. Based on my joints, I knew that my sushi rolling was not going to win me anything.
It turns out that rolling sushi is much easier than rolling a joint, although both require some practice and skill. My sushi turned out pretty good considering it was my first time ever attempting to make it and the rolls only fell apart a little bit while eating.
Overall, Green Labs is an incredible space that is leading the still-infant industry of legal cannabis-themed events. The class I attended sums up so much about what makes Colorado in 2015 exciting. Not only does the legal cannabis industry exist, but it is filled with young entrepreneurs who are working to provide unique experiences for a market that is clearly hungry for it. This entrepreneurial spirit is really at the heart of what makes this such an exciting time in Colorado and across the country.
I look forward to many more great events at Green Labs, especially ones where people leave having learned something new.