Cannabis Carnival II is the second annual benefit concert being held by the National Cannabis Industry Association during the Cannabis Business Summit. The concert and festival will be held at the Fillmore Auditorium in Denver, CO on June 30th.
The concert will feature a headlining set by the incredibly talented and trailblazing Medeski, Martin & Wood, and is currently one of only two shows they have scheduled on their tour this year (the other having already passed on the 12th of June). John Medeski, Billy Martin and Chris Wood are not a musical combination to be missed.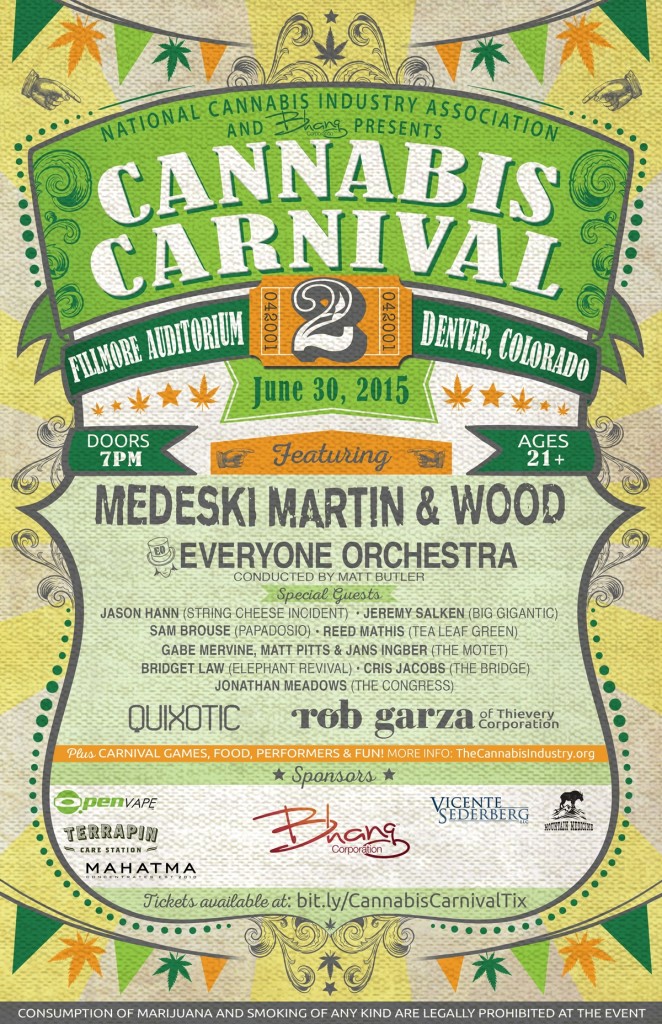 Joining MMW will be the invigorating and talented improvisational group, Everyone Orchestra, featuring members of The String Cheese Incident, Papadosio, Big Gigantic, The Motet and Tea Leaf Green, among others. Also on the lineup are Quixotic and Thievery Corporation's Rob Garza, who will be opening up the evening's musical performances with a solo DJ set.
The proceeds from the event benefit NCIA and their efforts to legitimize the emerging legal cannabis industry while furthering cannabis policy reform on the federal level.
"We're proud to support NCIA and their efforts nationwide," said John Medeski of MMW. "It's time to end the prohibition and stop the senseless war on marijuana. We're looking forward to performing at The Fillmore Auditorium in Denver, one of our favorite cities in America, and to being part of this important event."
Matt Butler, conductor of Everyone Orchestra, added, "I've been a supporter of the legalization of cannabis for as long as I can remember and have participated in various events, such as N.O.R.M.L. fundraisers, back when everyone involved was probably profiled by the FBI. It was a little scary and felt incredibly wrong but was also very powerful to be with like-minded folk with a common cause.
So to be a part of this movement at this stage in the game, in Colorado, which is light years ahead of other states in cannabis legalization and legitimization, is both an honor and exciting to me. It's amazing to witness the cannabis industry emerge from the black market, to legal medical marijuana and all the way to legal adult use and distribution.
The Cannabis Carnival is about celebrating this progress as well as supporting the National Cannabis Industry Association in their journey to unite and empower the people and companies that are leading this change, and Everyone Orchestra is going to bring on the musical heat and get the people moving and grooving!"
In addition to a night of exemplary music, the evening's entertainment will also include live art and performances, carnival-themed attractions, food, games and intimate networking lounges.
This is absolutely sure to be an incredible night. Tickets for the concert are available now on Live Nation.
Until then, hold yourself over with some Medeski, Martin & Wood: