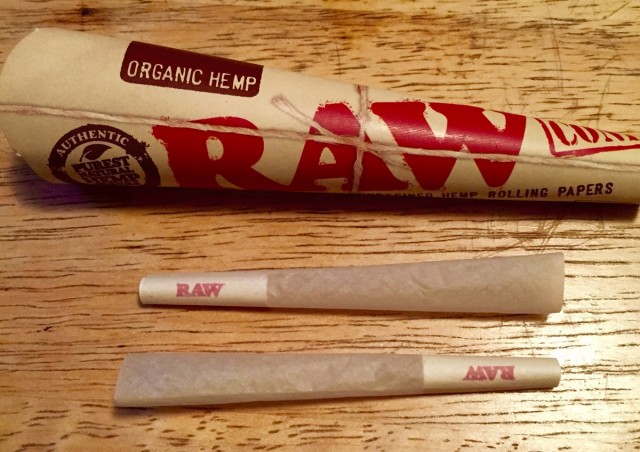 I've made a confession before, here on Weedist, that I've never been great at rolling my own joints. Even after taking a recent class on it, I still just don't have the knack for it. We've carried several reviews of pre-rolled cones, and I recently came across a newer offering from RAW, makers of many kinds of papers and cones.
Organic Hemp Cones are made from unbleached hemp that the company says is organically grown, which accounts for the white color of the paper and the slightly thinner texture of the cone. Their regular papers are a favorite of many weedists, so the cone version made sense to try out. After testing several packages of these, I have to say that I enjoy these more than the regular, bleached cones.
The first thing is that they burn a bit better. It seems to be a more even burn then the normal bleached cones that are sold at just about every headshop and medical marijuana dispensary. The biggest difference between the standard papers is the taste, which is absolutely cleaner and allows the flavor of the bud to come through. The taste is definitely the biggest draw with any non-bleached paper, and these certainly live up to the promise.
Sold in 6 packs, the cost is the same, so from here on out it just makes sense for me to keep getting these superior cones. For those like me that enjoy a well-rolled joint but don't have the skills to make it happen themselves, RAW Organic Hemp Cones are definitely a great way to roll.