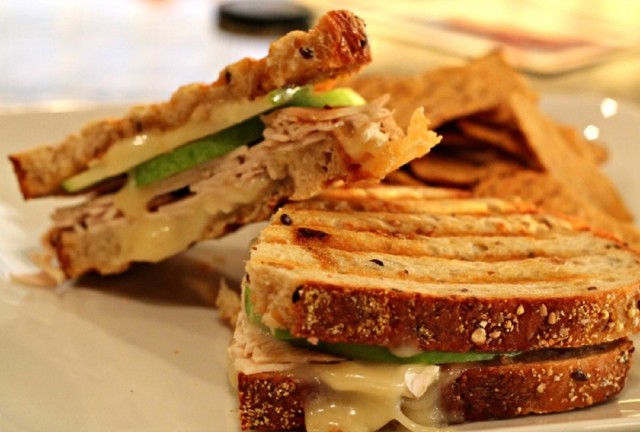 Turkey is by far my favorite deli meat, especially when it is freshly sliced and piled high on a panini. This medicated recipe features a turkey panini made with cheddar cheese and thin slices of green apple, all cooked using cannabis-infused butter and pressed to perfection on a panini press, making this flavor combination absolutely mouth-watering.
Serves 2
Here's What You Need:
4 slices of thick multi-grain bread
fresh sliced turkey
1 green apple (sliced thin)
4 slices of cheddar cheese
2 tablespoons grainy mustard
4 tablespoons cannabis-infused butter (softened)
1 panini press
How to Make Turkey, Apple and Cheddar Panini
To begin, spread 1 tablespoon of grainy mustard onto one of the slices of thick multi-grain bread.
Next, place a single slice of cheddar cheese on top of the mustard smeared bread. Then, place a healthy layer of fresh turkey slices on top of the bread piece with the mustard and cheddar cheese.
After, wash and cut the green apple into thin slices.
Proceed to place some thin slices of apple on top of the layer of turkey. Then, top the apple layer with the second slice of cheddar cheese.
Finally, crown the open-faced sandwich with the second slice of multi-grain bread.
You want to repeat this entire process for the second sandwich.
Once both sandwiches have been constructed, preheat the panini press until it's hot and ready to go.
Before you place the sandwiches onto the hot panini press, first smear both of the exterior surfaces of each sandwich with the softened cannabis-infused butter (roughly 1 tablespoon or less per side). The cannabis-infused butter will yield a crispy, pressed panini in the end.
The best way to go about buttering the sandwiches is to first smear one tablespoon of softened cannabis-infused butter onto the top slice of multi-grain bread (the side you see when looking down at the sandwich).
Once the first top slice of bread on the sandwich is covered in cannabutter, carefully place the sandwich butter side down onto the hot panini grill. You will hear it begin to sizzle, which is what you ideally want.
Before you pull the top of the panini press down onto the sandwich to cook and press it, quickly spread the remaining cannabis-infused butter on the now exposed "butter-less" slice of bread.
Carefully spread the cannabutter onto the top slice, and then proceed to lock the panini press.
Cook the paninis for roughly 5-6 minutes, or until they're golden brown and crispy on the outside.
Finally, plate the paninis and slice them diagonally.
Serve immediately and enjoy!
Check out other posts from Weedist's Great Edibles Recipes series!