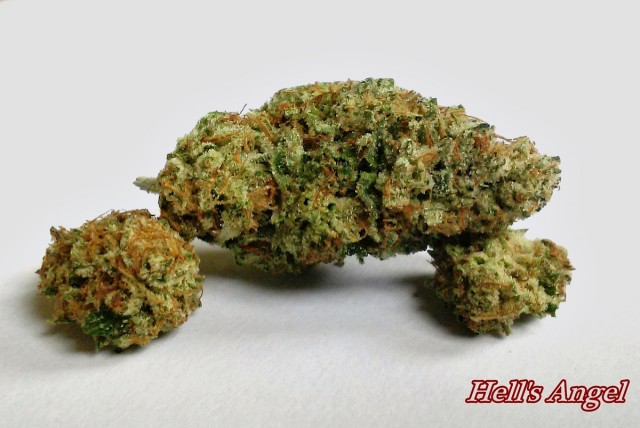 Recently I had been hearing quite a few rumors around town about a wonderful and supremely dank strain of cannabis called Hell's Angel. Once I got my hands on it from Golden Leaf recreational dispensary, I was sure glad I listened.
I absolutely love Kush genetics, especially the OG. As soon as I took a sniff and a toke of Hell's Angel, I knew those genetics had to be in her, so I did some digging. I couldn't find much on her lineage other than that she may be the offspring of the crossing of OG Kush and Blackberry strains, but that is not totally solidified in any reference I found. Nonetheless, the Hell's Angel mystery yields good results in my opinion, regardless of what her parents are. It is known that she is a hybrid, solely based on the unknown lineage, and is thought to be more indica heavy.
Her buds are simply beautiful; maybe this is where the "Angel" comes from? They are dense and conic or spear shaped, and seemingly made up of several smaller masses of budlets, as I call them. Her calyxes are coated in a sugary topping of trichomes that burst from the surface as you break apart the flower, which is healthy colors of olive and lime green.
As for the smell, if you like pungent, earthy and just a touch of sweetness, like Kandy Kush offers, Hell's Angel is for you. She is super pervasive in her aroma, but as you crush, chop or grind the bud, a slight sweetness hits the nose, relieving you of the fuel-like, sourness of the herb. It almost reminds me of green peppers, charred hops, pine and black pepper — very earthy, and very intriguing. The taste is exactly how she smells; it is uber pungent, earthy as compost, but sweet like a mild fruit or tea leaves.
I thoroughly enjoyed Hell's Angel and my body didn't mind the great medicine either. This strain helped me battle the chronic fatigue that usually hits me within 3 hours of waking up after a 10 hour slumber, and it kept me motivated throughout the day. I think this is because it also helped me find relief from chronic pain (due to an inflammatory disease) and increased my appetite nicely,  which in turn gave me the boost of energy I desperately need some days.
Overall, I can now say Hell's Angel is added to my list of favorite strains now, based on her simple, yet powerful, characteristics alone. Her potency is just an added bonus.
Check out other posts from Weedist's My Favorite Strains series!