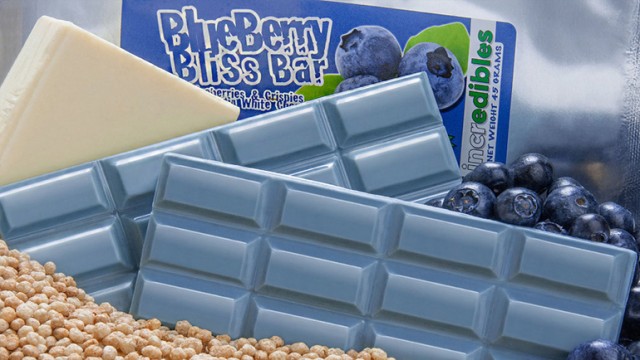 The other day I was standing at the counter of one of my favorite medical dispensaries and got the urge to step out side the box and try a different product. I have seen the familiar foil package around in various shops and in my trusted friends possessions, so I thought, why not try an "Incredibles" brand edible? In the display case, there were probably 10 different 'candy bars' to choose from.
From the famous Boulder Bar with chocolate and toffee, the Peanut Budda Buddha with peanut butter, pretzels and white chocolate, a Peppermint Patty and Cookies 'n Cream bar, to the lower dose "healthy" snack type of bar, the Mikiba bar with 10 nuts and seeds. I decided after a few minutes of thought on the Blueberry Bliss Bar because I really enjoy the blueberry and hash taste combination.
I've done some previous research on the Incredibles brand and found that they use all in-house hash oils, cannabis infused butters (or "green butters") and bubble hash in their edible products such as these delicious chocolate bars, gummies, and even pain relieving capsules for medical patients. They also test every batch of infused butters and concentrates, and decarboxylate the THCa into the pyschoactive and ready to use/absorb form.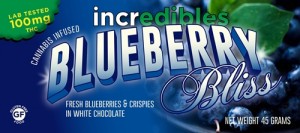 This chocolate bar had me excited from the beginning. I love "crispies" in my chocolate bars and real dried blueberries, which are my favorite dried fruit. So I was really hoping this edible wouldn't let me down. I opened the package and the bright but "real" looking blue color in contrast with the tinted white chocolate was nice to see in comparison to an unnatural electric blue they use in kid's candy.
I flipped it over and to my surprise counted 12 blueberries in my bar — that's more than 1 blueberry per square. The crisp of the flax was nice and truly crispy, and not like Crunch or Krackle bars with rice pieces. Overall, each of the highlighted ingredients stood out, yet blended nicely with each other.
I split the bar into 4 equal servings of 3 little pieces — each square contains about 8.3 mg of THC. I ate 3 squares totaling approximately 25 mg and waited an hour. Since I have a stronger tolerance (I've determined between 50-85 mg is my "sweet spot" for a desired effect for pain management), I felt a small head change, and relaxed as if I just got out of the shower. So I ate another 3 squares to get to my normal dose and waited another hour. I am happy to say, after 50 mg and half a bar, I felt relief from my pain, and slept like a rock that following night — I mean like a solid, stuck in the mud rock… which is a great thing!
The next day I woke up refreshed and able to say I felt like I got bang for my buck at $12 per bar — $6 per medicinal serving for me personally. For an edible that I don't indulge in very often, I'm rather happy with my purchase of Incredibles Blueberry Bliss bar.
Check out other posts from Weedist's Edibles Review series!