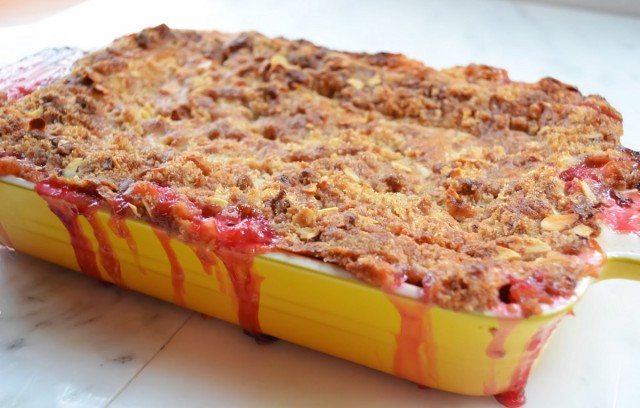 Raspberries and peaches are some of my favorite summer fruit, and now that the season is almost over I am finding every reason in the world to eat as much of each as I can. Feast your eyes on this beautiful raspberry peach cobbler, medicated with a delicious cannabis-crumble topping that will be sure to make anyone swoon. This dessert is perfect for any Labor Day gathering, or even just a cozy night in watching your favorite form of entertainment.
Serves 6-8, dessert
Here's What You Need:
Cobbler Filling
3 cups fresh raspberries
2 cups sliced fresh peaches (skinned and pitted)
1/3 cup sugar
1 tablespoon all purpose flour
juice from ½ lemon (roughly 1-2 tablepoons)
¼ teaspoon ground cinnamon
Cobbler Topping
¼ cup (4 tablespoons) cannabis-infused butter (melted)
1/3 cup all purpose flour
1/3 cup brown sugar (packed)
2/3 cup rolled oats
½ cup crushed pecans or almonds
1 teaspoon organic pure vanilla extract
¼ teaspoon ground cinnamon
¼ teaspoon salt
How to Make Raspberry Peach Cannabis-Cobbler
To begin, preheat your oven to 350 degrees Fahrenheit.
First, you are going to create the cobbler filling. In a large bowl, mix together the peaches, sugar, flour, lemon juice and cinnamon. Then, add in the raspberries and stir once more (be careful not to break too many of the raspberries).
Next, lightly grease a baking dish with some nonstick cooking spray and then pour in the fruit filling.
Using a spatula or wooden spoon, smooth out the fruit until the entire base of your baking dish is covered to the corners.
Next, you are going to make the cobbler topping.
In a medium size bowl, combine the flour, brown sugar, rolled oats, vanilla extract, crushed pecans, ground cinnamon and salt, stirring to combine.
Then, melt the cannabis-infused butter either in a small sauce pan on the stove top over low-heat, or pop it in the microwave for a minute in a pyrex measuring cup (or some other microwave-safe dish). Next, proceed to add the melted cannabis-infused butter to the rest of your cobbler topping. Mix well to incorporate the ingredients into a crumbly topping.
Pour the cobbler topping over the raspberries and peaches sitting in the baking dish, making sure to cover the entire top surface.
Place the baking tray in the oven and bake the cobbler for roughly 35-40 minutes, or until the fruit filling is nice and hot and bubbling.
Remove the cobbler from the oven and allow to stand for a few minutes before serving.
Serve the cobbler while it's still nice and warm, paired with a side of your favorite vanilla ice cream.
Enjoy!
Check out other posts from Weedist's Great Edibles Recipes series!