Farmer Tom Lauerman is taking his farm to another level. From now until mid-September, with some help from Kush Tourism, he will offer tours of his organic cannabis farm. Located just about a half-hour outside of Portland, Tom's five acres feels worlds away from the city.
Tom's vegetables have been winning ribbons at the Clark County Fair for years. On Saturday, June 14, 2014, he gave his first tour. Tom was joined by some members of the local press, friends and me. It was a beautiful day, perfect weather to spend an afternoon outside.
Tom started the tour with a brief biography that tells the story of how he came to be an organic vegetable and cannabis farmer. His desire to live a cleaner, chemical-free life is what led him to both. He and his lovely wife, Paula, have worked for ten years to get the farm where it is today. It is obvious from the first moment that they are a great team who share a common vision.
Tom's activism rose out of a bust in California in the '90's. Like many activists, he experienced first hand the injustices of the drug war. Tom's farm is a part of his activism. Through the tours, he provides education to those who want to learn about sustainable, organic farming in addition to the healing powers of cannabis. This year, he has expanded both his vegetable acreage and his cannabis farm to serve even more families.
"One of the goals of the tour is to bring people behind the scenes and let people talk to these folks," said Michael Gordon, the 26-year-old entrepreneur behind Kush Tourism. "Any negative stigma is going to disappear. People are going to realize these are normal, hardworking people."
Kush Tourism has this to say about the tour itself:
"This tour consists of an hour and a half walk through of his farm, including the Cannabis fields. You will learn about sustainable farming as you pass by fields of vegetables, and have your senses mesmerized as you walk through greenhouses of Cannabis."
Special guest, Cliff Maynard, whose roach paper art has been featured here on Weedist, had his work bench set up right in the Garden of the Green Sun. He talked about how he came to be a roach paper artist while he worked on his latest project. We got to see Cliff in action, which was a real treat.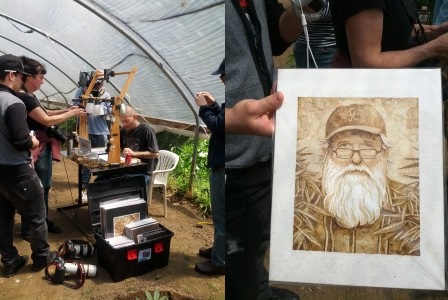 In addition to the tours, Tom also provides outdoor event space on his property. Tucked away and hidden by a grove of evergreens is a camping area that can accommodate several tents and an outdoor kitchen. He has already had a Psychic Fair come out for the weekend. At harvest time, people come and camp out to help harvest vegetables in trade for a share of the harvest.
Tom is also launching a set of trading cards that feature his cannabis strains and specially branded cannabis tinctures and products all generated by the farm. Tom is a perfect example of the diversity the cannabis industry can offer. He has his finger in every pie and stands to do well in this burgeoning new industry. He is living proof that a little imagination and a lot of hard work can change the world, starting right in his own back yard!
I'm just a guy from Framingham Massachusetts w no computer skills but I have really nothing to lose and would love to b a big part in this new pot revolution and rt now I'm diabled and do have some serious disabilities but if I'm doing something I love than it should make work easier cause I love talking testing and learning about the newest things about pot and I'm a very creative person and think differently than some and I believe my perpose in life is to finish taking care and living w my 62 year old mother who doesn't wanna b alone cause she lost her husband ten years ago... but Massachusetts is gonna concider passing some new laws this year and I just wanna help!! it brings joy to a lot of people, goo and bad but I live to see people smile and b happy. I'm terrible w computers but thares gotta b something I can do... I'm collecting eaedc from the state and awaiting disability now for 6 years and when I do get it I still wanna have a part time job and b able to make people smile!!