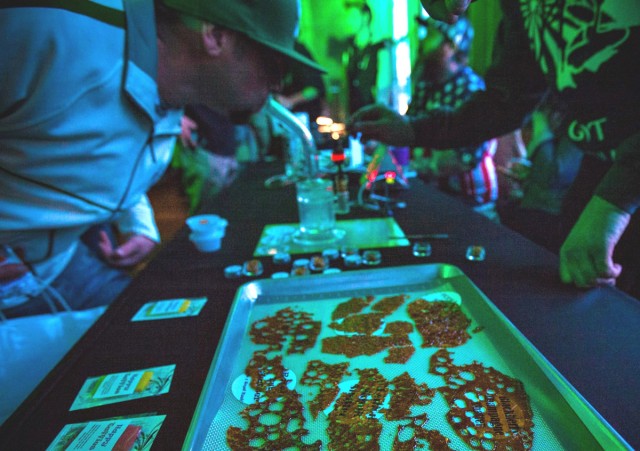 Photos by Dope Cup Magazine
Legal weed had its way in Seattle this 4/20. The pinnacle of my smokey weekend was definitely the 3rd annual Dope Cup. Held in Seattle's SoDo district, it was the place for #seattlestoners to be on 4/20 eve this year. A THC fueled evening out with some of the cannabis industry's brightest local stars. I had such a great time I decided to cover it from both the flower and oil perspective.
Though I had a terrific time, I've got to open by calling the organizers out for some false advertising. When initially advertised, the Judge's Pass was to include "at least 10 x .5 gram CONCENTRATE samples" and this was not the case. I did not find out until I picked up my sample bag that they were flowers instead. There is a huge disparity in price between flowers and errl, this really was not cool. I — along with every other Seattle dabber — scrambled to plunk down a hundo on those passes when we read that ad. It seemed too good to be true; it sucks that it was. That being said it was still a really dope time and there were plenty of dabs, so we can chalk it off to a misunderstanding; I just had to clear the air on that.
All You Can Dab Bar
Though Dope Cup was definitely a night for the smokers, there was plenty for us dabbers to do too. There were at least 5 rigs with e-nails and free dabs on deck going non-stop, that's what's up. The errl selection was nothing  to sneeze at either. There was a fine mix of Indica and Sativa shatters along with Co2 oil options. The dab tenders were very polite and attentive, this is always appreciated. I noticed they were mindful to ask everyone if they were new to dabs, KEY.
I told each one of them I was a pro and they all replied with globs. :) Nomnom, delicious. Every dab was on par with the flowers competing that night. A low temp of Dutch Hawaiian was my fave of the evening.
It was nice to see and sesh with so many prominent #seattlestoners that night. I enjoyed a huge twaxed blunt with the Northwest Oils and Have A Heart crews. It was also nice to see Oil Slick, Dabs Unlimited, Hitman Glass and Fweedom out in arms. I am already down for this event next year.
Related Posts: