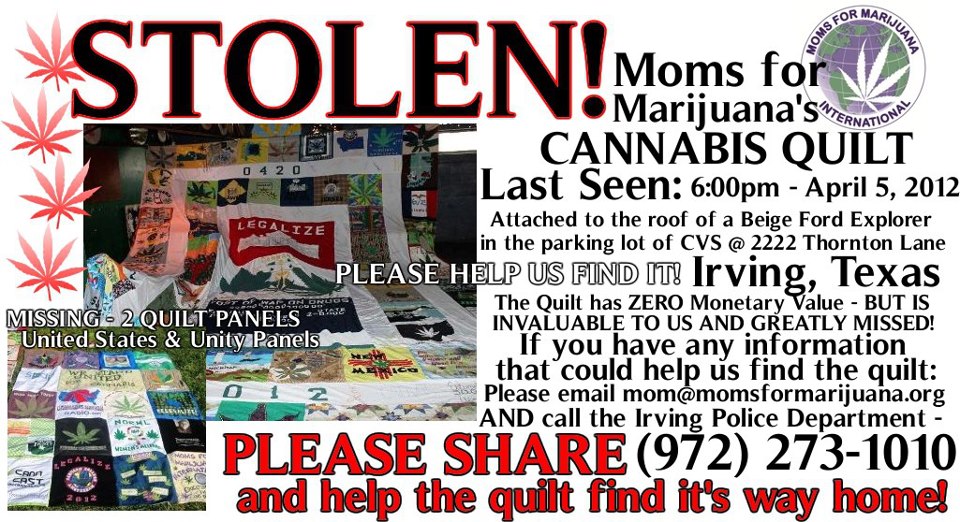 The Moms for Marijuana Cannabis Quilt has been stolen! At approximately 6pm on April 5th, 2013, while traveling from Dallas, TX to Austin, TX on its way to protest harmful cannabis laws at the Texas State House, the beautiful and powerful cannabis quilt was stolen. Texas chapter leader, Tracy Ansley, stopped at the CVS Drug Store at 2222 Thorton Lane in Irving, Texas, and it was taken from the luggage rack on her car while she was in the store.
Two panels were stolen. The United States panel, 18′ x 24′ and our Unity pane, approximately 8′ x 10′, are both gone. These quilts weigh close to sixty puonds together and are not easy to just carry around. The quilt represents over two years of dedicated work from more than fifty volunteers across the nation.
Inspired by the tremendous statement and awareness caused by the Aids Memorial Quilt, Moms for Marijuana and other cannabis organizations made a beautiful quilt to represent solidarity and unity for the legalization of cannabis. It was unveiled in Washington, DC last September, with rallies across the country to show support.
Moms for Marijuana has reached out to the entire cannabis community to ask for help for the safe return of the quilt. This is from their Facebook event, created to spread the word:
"You can share this event. Invite people to it. Share the graphics and the video on this event. You can spread the word and tell every person, every group, every organization you know.

You can also email all these media contacts in the Austin/Dallas/Fort Worth areas, and let them know they need to be covering this story to help bring the quilt home!

CBS Dallas: ktvt cbs11tv@ktvt.com
Wfaa Dallas/Fortworth: http://www.wfaa.com/on-tv/contact
Fox Dalllas: kdfw@kdfwfox4.com
Fox Austin ktbc: programming@fox7.com
Abc Austin kvue: cbarry@kvue.com and news@kvue.com
NBC Austin kxan: http://www.kxan.com/subindex/report_it
CBS Austin keye tv: programming@keyetv.com
NBC Fort Worth kxas: NBCDFWCC@nbcuni.com

And these major area radio stations:
Klbj radio 93.7 The Rock of Austin: lalloyd@klbjfm.com, bob@klbjfm.com, daniel@klbjfm.com, cj@klbjfm.com, bdoe@klbjfm.com, autumn@klbjfm.com, wendy@klbjfm.com, loris@klbjfm.com

Lonestar 92.5 Classic Rock (Irving listening area) kzps: dondavis@clearchannel.com, bo@lonestar925.com, jim@lonestar925.com, randy@lonestar925.com, laura@lonestar925.com, jon@lonestar925.com, ted@lonestar925.com

Kegl 97.1 The Eagle Dallas Fort Worth Rocks: dondavis@clearchannel.com, nikki@sixxsense.com, kerri@sixxsense.com, chris@kegl.com, russ@kegl.com, trey@kegl.com, dan@kegl.com, clo@kegl.com, alfie@kegl.com, cindy@kegl.com, psa@ccdallas.com

98.7 kluv Dallas Ft. Worth: Ron.Harrell@cbsradio.com

If you know of any other media contacts in the Dallas/Fort Worth/Irving/or Austin, Texas area, please contact candace@momsformarijuana.org.

Please watch and share our video : The Cannabis Quilt Has Been Stolen


Thank you all for taking the time to help us bring our Cannabis Quilt Home."
If anyone has knowledge of the location of our beautiful cannabis quilt, please email mom@momsformarijuana.org. No questions asked! Also, call the Irving Police Department at 972-273-1010. Please help Moms for Marijuana retrieve this symbol of unity in our community.