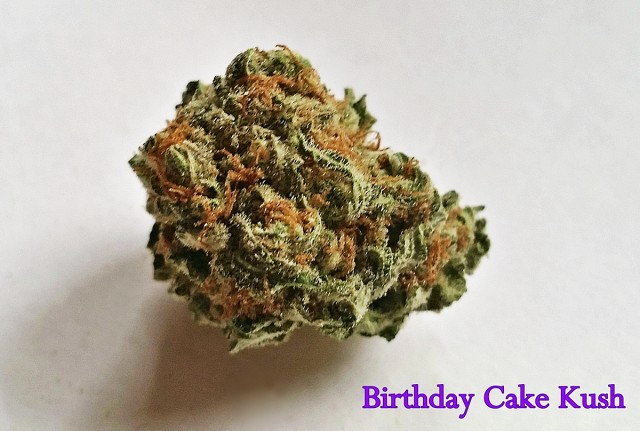 This indica dominant strain is hard hitting, so novice smokers beware, don't party too hard or you may end up missing the party.
Birthday Cake Kush (or simply Birthday Cake) is a tasty strain with a spectrum of smells. She comes from the breeding cross of GSC (or Girl Scout Cookies) and Cherry Pie. Cherry Pie has been a favorite of mine for a long time also, because she has one of my top 6 best tasting strains as a parent, GDP, as well as Durban Poison and OG Kush. GSC (or now going as such names as Cookies), also comes from this lineage of Durban Poison and OG Kush, as well as a touch of some Cherry Pie in some strains. So really I am unsure if it would be safe or not to say this strain could possibly be a phenotypic variation of the GSC we all know and love. Regardless of such thought, Birthday Cake Kush is phenomenal medicine.
The buds are like little balls — very round and very dense. I'm guessing if you tried to give it a bounce, it would fall heavy to the ground. There are so many red hairs that the bud itself looks like it has clumps of hair reaching out from the pits of the calyxes. The trichome coverage is spectacular, they're present on every surface, even along the smaller stems, and getting caught up in the pistils too.
The smell is refreshing and quaint. It reminds me of a powdery perfume my late grandmother used to wear. Earthy but very airy and sweet, with a buttery note of almonds, but tart on the back end. When you break her dense buds apart, you don't even need to lean in for a whiff, and you can sense the change of sweet to tart in the air around you. The taste of Birthday Cake Kush is not of birthday cake in the slightest, but more of a sweetened kush strain, like a sweetened earthy sun-brewed iced tea with a touch of honey. Again, very enjoyable and refreshing.
After a bowl to myself mid-afternoon on a sunny Rocky Mountain day, I found myself in a deeply relaxed state, almost ready for a nap if I'd let myself succumb to the effect. I also noticed after a small lunch a few hours ago, my stomach was telling me it would like a snack too, and my appetite skyrocketed. These effects may be too much for smokers with a lower tolerance, but I found were great for pain from inflammation, so a few tokes goes a long way. So as with birthday cake, smaller amounts are better when dealing with the Birthday Cake Kush strain also, and over-indulging may lead you prone to couch lock — but sometimes a potent treat hits the spot.
Check out other posts from Weedist's My Favorite Strains series!
Your Cannabis oil is in a completely different than others that I have tried…The Cannabis oils have helped me with IBS, Depression, Back/Neck Pain, Anxiety, Brain fogginess, as well as assisting in killing Cancer Cells" **CONTACT:(marijuana.network420@gmail.com) **SKYPE: (medical fourtwenty) if you need Cannabis Oil to Treat any form of Cancer and you will get the best quality!!
-Michael