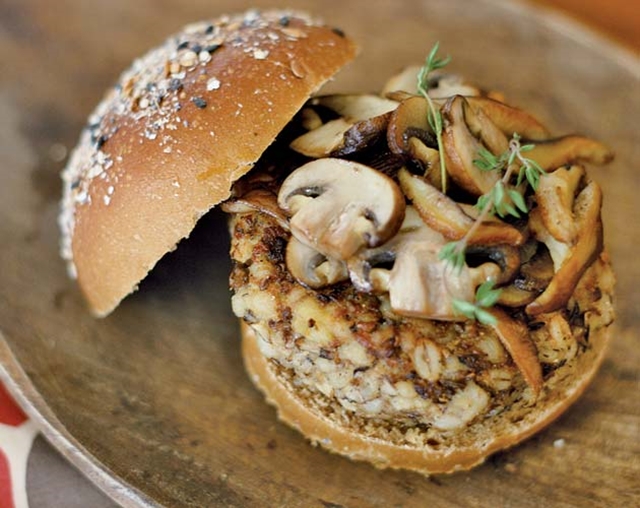 Last week, we featured a vegetarian black bean burger recipe. This week, I thought we'd explore another fantastic dish — juicy, cheesy and delicious mushroom burgers. There's just something about the combination of flavors that makes for an exquisite, taste-bud delighting meal. This medicated version features mushrooms, cheddar cheese, caramelized onions and fresh arugula.
Yields 4 burgers
Here's What You Need:
2 cups mushroom (finely chopped)
1/2 cup onion (finely chopped) and 2 cup onion (shredded), divided
1/2 cup dry bread crumbs
1/2 cup shredded cheddar cheese
2 eggs (lightly beaten)
1/4 cup cannaflour
2 tablespoons of butter
1/2 teaspoon salt
1/4 teaspoon pepper
1/4 teaspoon thyme (dried)
1 tablespoon coconut oil
4 seasame seed hamburger buns
Optional garnishes: arugula, caramelized onions, barbecue sauce
How to Make Medicated Mushroom Burgers
In a large bowl, begin by combining the mushrooms, eggs, bread crumbs, cheese, 1/2 cup onion, cannaflour, salt, thyme and pepper. Use hands to combine ingredients and then shape into four separate patties.
Place these to the side for now. Then begin the process of creating the caramelized onion topping. Melt a tablespoon of butter in a small pan over medium-low heat, until the butter begins to foam. Add the two cups shredded onion and allow to cook over low heat, stirring occasionally, until they become a deep golden brown and are thus caramelized. This may take up to 45 minutes.
Once the onions are caramelized, begin to heat the coconut oil over medium heat in a large skillet. Add the mushroom patties and cook 3 minutes on each side or until lightly browned and crisp.
Finally, assemble the burgers and top with your choice of arugula, the caramelized onions and/or BBQ sauce.
Enjoy!
Check out other posts from Weedist's Great Edibles Recipes series!