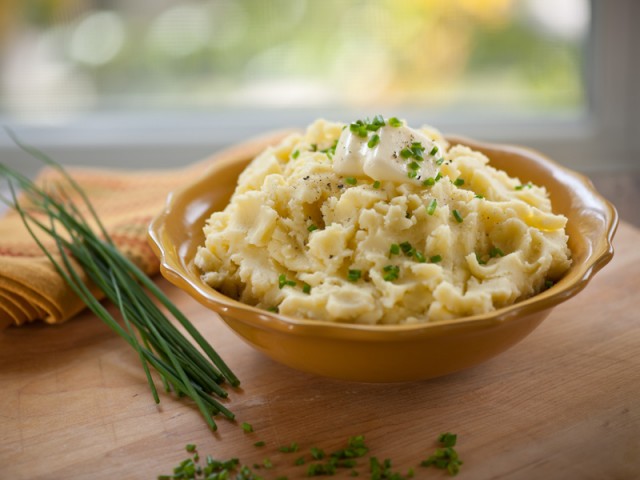 There's mashed potatoes, and then there are mashed potatoes the way a Texas toker makes 'em. This recipe is for the latter — delicious, creamy, garlic mashed potatoes with cream, cheese, onion, seasonings and a strong dose of cannabis. For those who like a less potent edible, simply substitute the cannamilk for regular milk. Your taste-buds will sing when you taste this recipe, and I dare say that you'll never look at mashed potatoes the same way again.
Here's What You Need:
1 large garlic bulb (unpeeled)
1

medium sized

white onion (chopped)
4

medium sized

potatoes (peeled and quartered)
1 tsp olive oil and 1 tbsp olive oil, divided
1/4 cup

cannabutter

, softened
1/4 cup sour cream
1/4 cup grated Parmesan cheese
1/4 cup

cannamilk

 (optional:

unmedicated

whole milk for a less potent recipe)
1/2 tsp salt
1/4 tsp pepper
Optional toppings: chives, scallions
How to Make Texas Toker's Garlic Mashed Potatoes
Begin by pre-heating your oven to 425 degrees.
Next, cut off the top of the garlic bulb and remove the outer skin, but do not peel or separate the cloves. Use a brush to coat the clove with 1 teaspoon of olive oil, and then wrap the bulb in tin foil. Place this in your pre-heated oven for 30 minutes or until the clove softens.
While the clove bakes, peel and chop the onion, and then add to a large skillet with the remaining tablespoon of olive oil. Cook the onion on low heat for 15-20 minutes or until they are golden brown. Remember to stir occasionally. When the onions are finished, put them inside a food processor and blend them.
Setting the onions to the side for now, proceed to peel and quarter the potatoes (an optional variation is to leave the potatoes unpeeled if you prefer potato skin in your mashed potatoes). Then, place them in a large sauce pan and cover with water. Bring to a boil. Reduce the heat and cover. Allow them to cook for another 20 minutes or until sufficiently tender. Then drain the water and place the potatoes in a large bowl.
Squeeze the softened garlic into the bowl, and then add the cannabutter, sour cream, cheese, cannamilk, salt, pepper and onion. Use a beater to mix the ingredients and beat the potatoes until mashed to desired consistency. Finally, add any desired toppings such as chives or scallions.
Serve right away. Enjoy!
Check out other posts from Weedist's Great Edibles Recipes series!