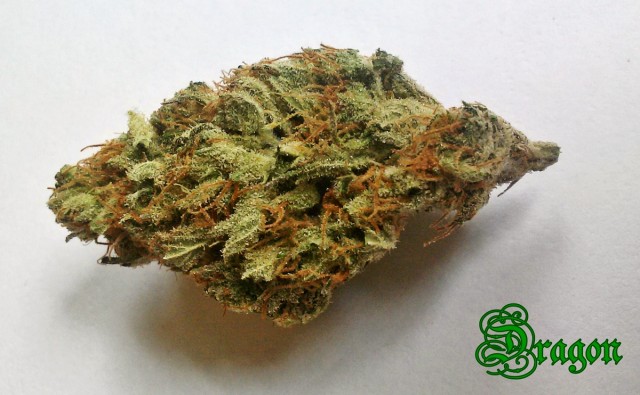 I live in a small town just outside Steamboat Springs, Colorado, one that's becoming a popular place for growers to set up shop, and I'm okay with that. Especially when the harvest is shared locally among the citizens in which it is grown, and not outsourced to other cities and counties. This strain called Dragon is a shining example of those practices and is grown (superbly grown at that) by Park Range Recreationals.
I went to the retail side of one of my favorite dispensaries in town for a new and wider selection of products. That's when I saw Dragon on the shelf. I asked the budtender to grab the jar for me so I could get a closer look and a whiff. After the first scent molecule reached my nose, I knew this flower was one I needed to try.
Later that day, I got to speak with the grower and found this particular Dragon strain is bred from the crossing of Island Sweet Skunk and Super Silver Haze, and now it all makes sense to why I enjoy it so much. There are also many other Dragon strains floating around, such as Purple Dragon, Green Dragon, Red Dragon and Dragon's Breath. However, nowhere can I find why these strains carry the Dragon moniker, only leaving her myth and mystery more appealing. So far, this Dragon is the only one I've tried past Purple Dragon, which is Blue Dragon crossed with Purple Urkle, and also very delish.
Is it possible her name came from her looks? Dragon has long slender calyxes, like dragon scales, that are very dense and protective. The long orange hairs are fiery red like a scorching flame from a dragon's mouth, and each bud has a pointed top like a spear or sword, which follows how to kill a dragon according to myth. The nuggets simply shimmer from the trichomes covering each surface of the bright and earthy green colored calyxes and leaves.
The smell is stunning and takes me back to my childhood. She smells like the old, non-gummy Flintstones chewable fruit multivitamins, particularly the red and purple ones (Dino was always my favorite). I say this because it reminds me of dried fruit, or like a dry white wine, but still very sweet. The smell also carries a musty fruit note along with some sour grape or berry hints. The taste is exactly as it smells. I mean, exactly! Dry and musty fruit, sour and sweet, with an earthy trace rounding out the flavor.
Due to the genetics of the Dragon strain, I can comfortably say that she would have a sativa dominance to her, if not almost purely sativa. These effects are definitely felt too. The high is very energetic and cerebral, uplifting and relaxing. I'd say this strain is good for daytime use, and one may want to step away from her before bedtime. Her energetic effect is good for increasing appetite also, but might be too intense for those prone to paranoia or anxiety.
Her effects last rather long in duration, for I found myself still in a good state 2-3 hours after one bowl smoked. I enjoyed this strain so much I went back to get more, and (not) surprisingly, it was all sold out. So I guess I'm not alone in loving this beautiful strain, for Dragon is mysterious yet powerful.
Check out other posts from Weedist's My Favorite Strains series!