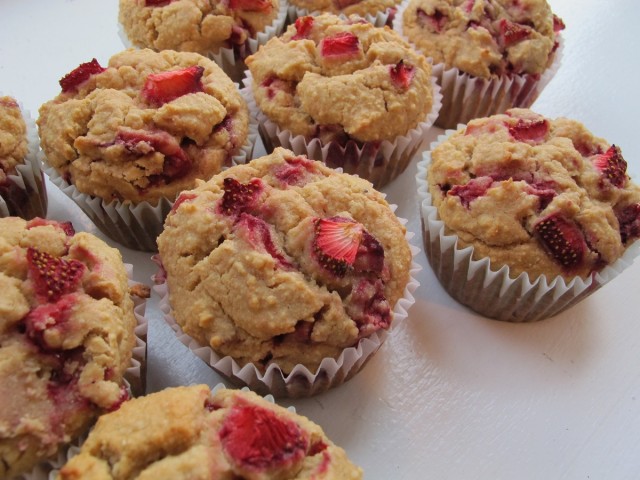 Strawberries are in season again and my heart is singing with joy! Strawberries are a delicious and nutritious way to start your morning and they contain various antioxidants and essential nutrients such as vitamin C, fiber and magnesium! Combining strawberries with some oats and baking them into a muffin just makes them that much better and satisfying. Try this medicated recipe featuring strawberry cinnamon oat muffins, and your spring mornings will never be the same again!
Yields 12 muffins
Here's What You Need:
1 cup unbleached all-purpose flour
1 cup rolled oats
2 teaspoons baking powder
1/2 teaspoon baking soda
1 teaspoon ground cinnamon
1/2 teaspoon salt
1 egg (beaten)
1/2 cup milk
1/4 cup cannabis-infused coconut oil
1/2 cup sugar
1/2 pint fresh strawberries (washed and chopped)
Muffin tray
Muffin/cupcake paper liners
Optional garnish: a pat of butter
How to Make Medicated Strawberry Oat Muffins
To begin, preheat your oven to 425 degrees Fahrenheit.
Next, prepare the muffin tin cups with paper-liners.
Then, in a large mixing bowl, combine all of the dry ingredients: 1 cup of unbleached all-purpose flour, 1 cup of oats, 2 teaspoons of baking powder, 1/2 teaspoon of baking soda, 1 teaspoon of ground cinnamon and 1/2 teaspoon of salt. Mix together all of the dry ingredients using a whisk or a fork.
Next, wash the strawberries thoroughly and then proceed to hull and chop them into smaller bits.
In a glass or Pyrex measuring cup, melt the 1/4 cannabis-infused coconut oil in the microwave until liquefied.
Then, in a separate bowl, whisk together the wet ingredients: 1/2 cup of milk, 1 beaten egg, 1/4 cup of melted cannabis-infused coconut oil, in addition to the 1/2 cup of sugar. After whisking well to combine, gently pour in the chopped strawberries until they're just combined with the wet ingredients.
After, stir the wet strawberry mixture into your dry ingredients and mix until the whole batter is well combined and moist.
Next, proceed to spoon the strawberry muffin batter into the paper-lined muffin tin, filling the cups about 2/3 of the way full — any more than that and the muffins will most likely overflow out of the pan.
Then, place the full muffin tray containing the strawberry muffins into your preheated oven and bake the muffins for 18 to 20 minutes, or until a wooden toothpick comes out clean when inserted into the center of the muffin.
Remove the strawberry oat muffins from the oven and allow them to cool in the muffin tray on a baking rack for a several minutes before serving. Serving them warm is recommended, however the muffins will easily keep for up to 5 days.
Serve with or without a pat of butter and enjoy!