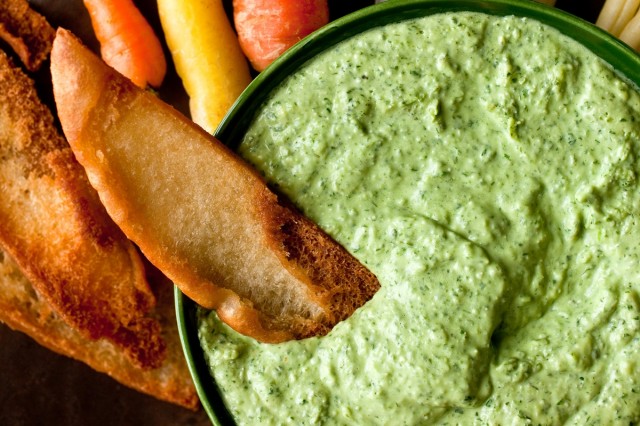 Green goddess dip is a creamy, tangy and herb filled vegetable dip that will be sure to spice up traditional appetizers this season. This medicated recipe features a green pea, avocado, and Greek yogurt based dip, filled with a variety of fresh herbs such as basil, tarragon, chives, and is medicated using cannabis-infused olive oil. You'll be surprised with how deliciously easy this veggie dip is.
Serves 8
Here's What You Need:
1 cup plain, fat-free Greek yogurt
1 cup fresh peas (you may substitute frozen peas, just make sure they're thawed before using)
1/2 cup ripe, peeled avocado
1/3 cup fresh basil (chopped)
3 tablespoons fresh chives (chopped)
1 tablespoon fresh tarragon (chopped)
2 tablespoons freshly squeezed lemon juice
1 tablespoon apple cider vinegar
2 garlic cloves
1/2 teaspoon salt (more to taste)
1/4 teaspoon black pepper (more to taste)
How to Make Green Goddess Dip
To begin, combine all of the ingredients, except for the cannabis-infused olive oil, in a food processor or blender.
Next, pulse the ingredients until the dip is smooth and creamy.
Then, put the blender/food processor on the lowest setting and slowly drizzle in the 1/4 cup of cannabis-infused olive oil until the oil is fully combined into the dip.
After, taste the green goddess dip and make any necessary adjustments to the seasonings.
Finally, pour the dip into a small bowl and serve it with an array of fresh vegetables and crackers. My recommendations are your favorite bread or crackers, carrot sticks, celery stalks, sliced bell peppers, broccoli or cauliflower florets and cherry tomatoes. Just about anything you can think of pairs well with this dip!
You can store the dip in a mason jar or plastic storage container for up to 1 week in the refrigerator.
Enjoy!