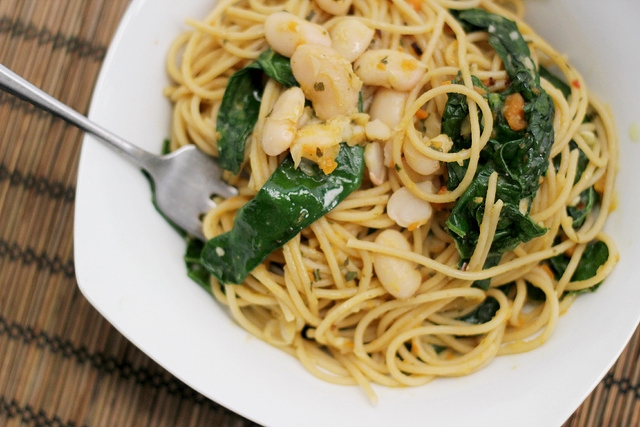 The following pasta dish is super simple to make, and only requires a handful of ingredients, making it a perfect, easy dinner for any work week. This vegetarian-friendly medicated pasta dish features linguine, lots of fresh garlic, chopped kale, and cannellini beans! Try something new with these classic Italian ingredients combined with the tender loving care of Mary-Jane.
Serves 4
Here's What You Need:
8 ounces of cooked linguine pasta (following the directions on the back of the pasta box)
1/4 cup reserved cooking water (saved from your pasta)
4 tablespoons cannabis-infused extra virgin olive oil
1/4 cup freshly chopped garlic
1/2 cup fresh water
8 ounces chopped kale
15 ounce can of cannellini beans (rinsed and drained)
3/4 teaspoon black pepper (divided)
1/2 teaspoon salt
1/4 cup freshly shaved Parmesan cheese
Optional sides: a salad of your choice, fresh bread of your choice, etc.
How to Make Garlic Linguine with Kale and White Beans
To begin, cook the linguine pasta according to the directions on the back of the box. When the pasta is done cooking, drain the pasta in a colander over a large bowl. The idea here is that you want to save 1/4 cup of the pasta water and discard the rest.
In a large skillet, over medium-heat, heat up the 4 tablespoons of cannabis-infused extra virgin olive oil.
Next, add the 1/4 cup of freshly chopped garlic. Cook the garlic for roughly 2-3 minutes until it begins to sizzle and becomes fragrant.
Then, add the 1/2 cup of fresh water, and throw in the 8 ounces of chopped kale. Cover the skillet with a lid and proceed to cook the kale for 5 minutes, or until it becomes tender, making sure to stir once or twice throughout.
Open the can of cannelini beans and rinse them in a colander in the sink.
Then, remove the lid from the skillet and add in the rinsed cannellini beans, 1/2 teaspoon of black pepper, and 1/2 teaspoon of salt. Cook for 1-2 minutes, or until the beans have heated all the way through.
After, add the cooked linguine pasta, along with the 1/4 cup of reserved cooking water. Toss the pasta to evenly coat it, and mix the dish.
Allow the pasta dish to cook for about 1-2 minutes or until it's piping hot throughout.
Remove the skillet from the heat and sprinkle the remaining 1/4 teaspoon of black pepper over the pasta dish and mix to combine.
Finally, garnish the pasta with your 1/4 cup freshly shaved Parmesan cheese.
Serve the linguine immediately with your choice of salad or some slices of fresh bread.
Enjoy!
Check out other posts from Weedist's Great Edibles Recipes series!