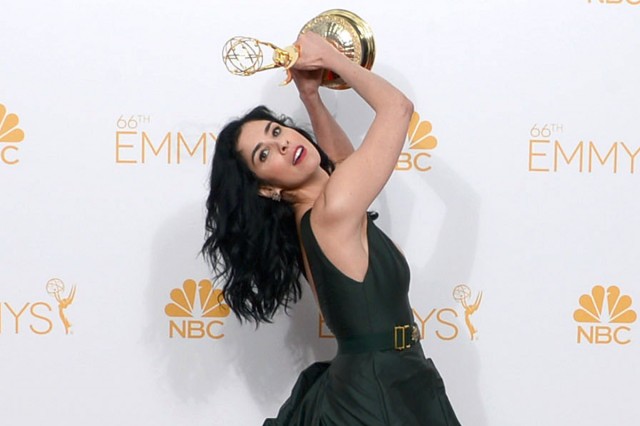 Those looking for more evidence that cannabis is going mainstream need seek no further than the Emmy awards. More than a few pot-friendly comments were made at the awards show.
Host Seth Meyers, right in his opening monologue stated, "Cable is looking at Netflix the way Justin Bieber looks at One Direction, through a cloud of marijuana smoke."
Comedic actress Amy Poehler commented during her time at the microphone that "True Detective" co-stars Woody Harrelson and Matthew McConaughey were "menu items at most dispensaries."
Other moments of pro-pot assent came from Haley Delany (on-screen daughter of Louis C.K. in "Louis"), who mentioned that Louis C.K. himself showed her the proper way to hold a joint. Pop singer, Adam Levine, offered his support of the marijuana movement with a slight fist pump.
The real pot-star, however, was Sarah Silverman.
It all began on the red carpet when Silverman revealed a vaporizer pen to reporters and told one from NBC that it contained 'liquid pot.'
"The comedienne went on to win the award for Outstanding Writing in a Variety Special for her HBO Comedy Special "Sarah Silverman: We Are Miracles," kicking off her shoes and running fiercely to the stage where she declared that "we're all just made of molecules and we're all hurling through space right now."
But the oddities didn't end there. A distracted Silverman attributed her questionable actions to "feeling weird" after having just watched the Robin Williams tribute, and insisted that she wasn't stoned.
"I don't drink. I like to have a puff as a treat at appropriate times," she continued, also noting that she brought some pot-based goods for later in the evening."
And this, apparently, is just the beginning:
"The pot-themed awards show wasn't lost on audiences either.

"Was this the first Emmys since pot was legalized or something?" one viewer tweeted, others called it something of a "stony night" while another quipped: "let's give it up for the real winner tonight – I'm talking of course, about pot."

As it stands, 23 states and DC have legislation allowing medical marijuana usage; with the issue of decriminalizing pot use altogether a growing topic of debate ahead of the 2016 Presidential election.

But the promotion of pot at the Emmy Awards is likely just the beginning. According to multiple reports, the hand-held Haze Vaporizer by Haze Technologies will be featured in the official Oscars 2015 gift bag. While e-cigarettes have previously been nestled in the goodie bag, this will mark the first time a marijuana-focused vaporizer will be rolled – pun intended – out."
If this type of stuff is allowed to be on TV for the Emmy's, it's certainly going more mainstream. The Emmy's air on nationally broadcasted TV, not cable. You can be sure plenty of people saw that who would otherwise not necessarily be privy to such things.