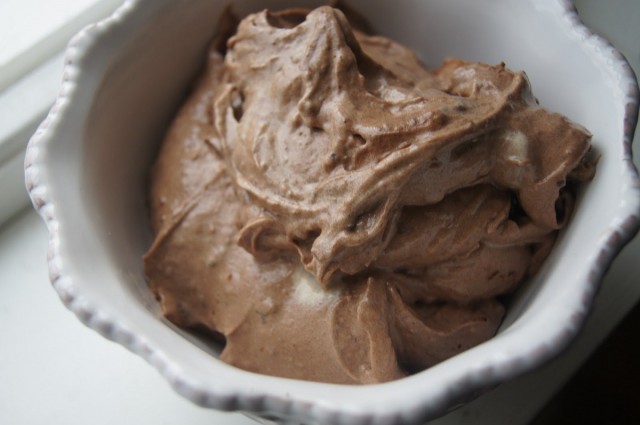 Dairy-free, cruelty-free and totally vegan friendly, this medicated version of chocolate banana ice cream will be sure to send your taste buds into pure bliss! Made from frozen bananas and cocoa powder, this spin-off of soft-serve ice cream proves to be a scrumptious frozen treat, and remains totally guilt-free!
Serves 1-2
Here's What You Need:
3 frozen bananas
1 heaping tablespoon of raw cocoa/cocoa powder
2 tablespoons of cannabis coconut oil (solidified)
1 teaspoon organic pure vanilla extract
Optional garnishes: cocoa nibs, hemp hearts, shredded coconut, chopped nuts, fruit, etc.
How to Make Vegan Chocolate Banana Ice Cream
Frozen bananas give this ice cream its coldness and frozen texture without the use of ice, so the first thing you will need to do is freeze some bananas.
When the bananas reach peak ripeness (some brown speckles on the peels) simply wrap the entire bunch of (or individual) bananas in aluminum foil and stick them in the freezer. Allow to freeze for several hours until they feel solid all the way through.
When ready to use, remove the bananas from the freezer, and run them individually under very warm tap water for about 10-15 seconds. You will begin to feel the peel regain its original texture as it warms up; this will allow you to scrape the peel off much easier. Then, rip off as much peel as possible – but as you will see, the stringy, innermost part of the peel will remain attached to the banana. Now, using either a vegetable peeler or steak knife (be careful!), scrape the remnants of the peel off the banana. Underneath will be a perfectly frozen banana, ready to use. Cut the frozen banana into smaller chunks before adding to a blender.
If you do not wish to freeze your bananas with the peels on (some people do not prefer this method, however this is the recommended method as it prevents freezer-burn for a longer period of time) you may opt for this alternative freezing-method instead:
Remove the banana peel, and then proceed to quarter your perfectly ripe banana. Freeze the individual pieces of banana in either a freezer-bag or plastic storage container. This method is quicker, easier and it allows the frozen bananas to be more readily available at the time of the recipe. However the one potential down-side is you must watch for the dangers of freezer-burn (you should try to use bananas frozen in this way within one week).
Now that your bananas are frozen, you can begin to create your ice cream.
Break 3 frozen bananas into smaller pieces and add them to a blender or food processor.
Next, add in the cocoa powder, cannabis coconut oil and pure vanilla extract. Blend until all the ingredients are fully combined and resemble the consistency of soft-serve ice cream. If you have any trouble with blending, feel free to add a tablespoon of water or almond milk to get the ingredients to incorporate.
Pour/scoop the chocolate banana ice cream into a small bowl. You may also add any garnishes/toppings at this point.
Enjoy immediately to avoid melting. You can also store the ice cream in an air-tight storage container in your freezer for up to one week, just allow the ice cream to thaw for about 10 minutes before scooping. You can also double this recipe and freeze any extra ice cream to have at your convenience.