Representative Steve Cohen (D-TN) has introduced federal legislation, House Resolution 4046, to remove legal restrictions prohibiting the Office of National Drug Control Policy from researching marijuana legalization. These restrictions also require the office to oppose any and all efforts to liberalize criminal laws associated with the plant.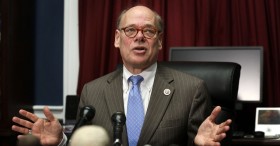 "Not only is the ONDCP the only federal office required by law to oppose rescheduling marijuana even if it is proven to have medical benefits, but it is also prohibited from studying if that could be even be true," said Congressman Cohen. "The ONDCP's job should be to develop and recommend sane drug control policies, not be handcuffed or muzzled from telling the American people the truth. How can we trust what the Drug Czar says if the law already preordains its position? My bill would give the ONDCP the freedom to use science—not ideology—in its recommendations and give the American people a reason to trust what they are told."
These restrictions were placed on the Office of National Drug Control Policy by the Reauthorization Act of 1998, which mandates the ODCP director "shall ensure that no Federal funds appropriated to the Office of National Drug Control Policy shall be expended for any study or contract relating to the legalization (for a medical use or any other use) of a substance listed in schedule I of section 202 of the Controlled Substances Act (21 U.S.C. 812) and take such actions as necessary to oppose any attempt to legalize the use of a substance (in any form) that–
(A) is listed in schedule I of section 202 of the Controlled Substances Act (21 U.S.C. 812); and
(B) has not been approved for use for medical purposes by the Food and Drug Administration;"
You can quickly and easily contact your representative by clicking here.
Article republished from NORML
this bill is going to `get lost` in the shuffle . it has been referred to 
 the Subcommittee on Crime, Terrorism, Homeland Security, and Investigations. Exactly what this bill has to do with Homeland security is beyond me but they are guaranteed to stall it as long as they can.
Thank the gods for Mr. Cohen and others like him!!! The American people have spoken on this issue and it disgusts me that so many of our representatives continue to cling to their selfish/ignorant drug war mentality.