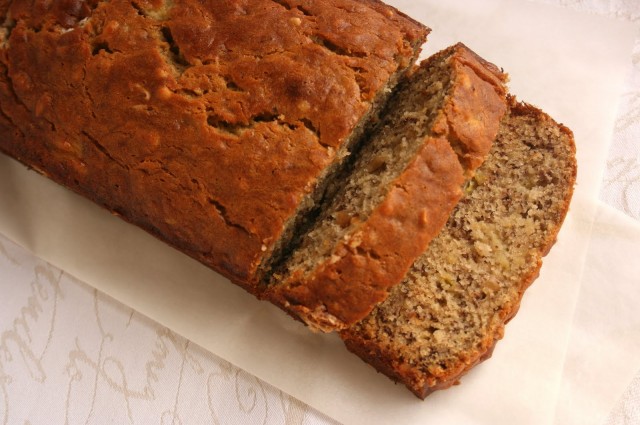 The first time I made banana bread living on my own, I remember feeling so very accomplished. I felt good because I used those nasty bananas instead of wasting them. It was winter, and the warmth of the oven and the scent of the bread baking filled the air. It wasn't until years later that I realized that cooking and baking are not that hard. But, hey, it was BREAD!
When I found this recipe online, I knew it would be perfect for medicating. Many banana bread recipes call for 1/2 cup of butter for two loaves. This one uses that much for just one loaf.
The notes that come with the original recipe also state that the bananas can be switched out for pumpkin or applesauce – BONUS – a double medicating opportunity! I can substitute medicated applesauce and use cannabutter to double my fun.
Since this recipe is so basic, it can easily be doctored to your specific taste.  You can add spices like cinnamon or use other soft fruit, like pears to add your own special flair.
Here's What You Need:
1/2 cup softened butter (1st medicated option, substitute w/ cannabutter)
1 cup white sugar
2 eggs
1 teaspoon vanilla extract
1 1/2 cups mashed banana (2nd medicated option, substitute w/ medicated applesauce)
2 cups flour
1 teaspoon baking soda
How to Make Banana Bread (Medicated Optional):
Preheat oven to 350 degrees.  Grease and flour one 9″ x 5″ loaf pan.
Cream butter and sugar until smooth.  Add vanilla; beat in eggs, then bananas.
Add four and soda, stirring until just combined.
Pour into pan and bake at 350 degrees for about one hour or until toothpick comes out clean.
Remove from pan and let cool.  Store in the refrigerator or freeze.
I added one teaspoon of vanilla to add a little flavor.  I found that cooling it out of the pan made it a little dry.  Next time, I think I will wrap it up while it is still warm to see if that keeps it a little more moist…or put ice cream on it.
Check out other posts from Weedist's Great Edibles Recipes series!
Great post.,thanks for sharing.