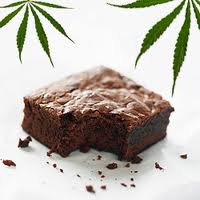 Every time I talked with someone about Seattle's Hempfest, both before and after the event, the conversation started with edibles. Homemade edibles supplied by attending weedists are almost as well known at Hempfest as the event itself. From my own experience, everyone who knows about Hempfest knows about pot brownies.
And they aren't hard to find.
Almost immediately after entering the front gates you'll likely walk by someone who whispers in your ear "Rice Krispies" or "pot cookies" or (on rare occasion) "shrooms". Throughout the festival you see crowds of people huddled around purchasing edibles, protecting the suppliers in the middle. Why do the suppliers need protecting?
Hempfest officials continue crackdown on edibles.
Hempfest officials made a concerted effort to remove weedists who are illegally selling edibles at the event. Hempfest co-founder Vivian McPeak told a crowd Sunday that every year "people eat too many pot brownies and think they're going to die." Additionally McPeak said that the people selling edibles on the side are actually taking money away from the event. "They don't pay vendor fees and they're hurting the people who do."
On top of the moral conundrum there is also the question of what's in the edibles themselves. Personally, I don't trust edibles from strangers (or weed for that matter) because you never really know what you're getting. You could get edibles with a high THC content or you could get something that has no THC at all. For this weedist, the uncertainty makes it a risk not worth taking.
But edibles are and will continue to be a focus at Hempfest. Weedists have consumed them and come away with great stories from Hempfest. Others, like the man I saw being carted through the crowd, weren't so lucky.