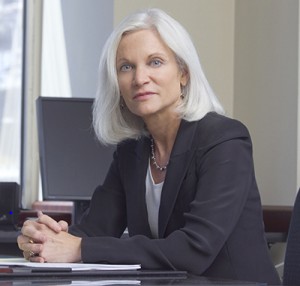 Melinda Haag, United States Attorney
450 Golden Gate Avenue
San Francisco, CA 94102
(415) 436-7200
Melinda.Haag@usdoj.gov
So why is Melinda Haag medical marijuana's enemy number 1 and an enemy of sick patients, states' rights, and our local economy in Northern California? For the simple reason that US Attorney Haag is attacking the medical marijuana industry and strengthening cannabis prohibition. She recently strong armed The Vapor Room in the Lower Haight to close and ordered threats on the Harborside Health Center and raids of Oaksterdam University, three state-law and tax-abiding businesses in Alameda County, California. Make no mistake, Haag is calling the shots in the Oakland-Alameda war on medical marijuana.
Councilmember of Oakland city Rebecca Kaplan said it best at the recent Harborside Health Center press event. How dare the federal government attack our legitimate medical marijuana industry instead of real public safety threats like the never ending firearms coming into Oakland. If the federal government has extra resources to piss away on medical marijuana which has no victims, how about allocating those federal resources toward all violence coming into Oakland.
Who is Melinda Haag? And what does she understand about what is going on in medical marijuana at the street level? Here are some highlights of her financial situation from MainJustice.com:
US Attorney Melinda Haag earns $1.06 million annually from her partnership interest in the San Francisco legal firm Orrick, Herrington & Sutcliffe LLP.
US Attorney Melinda Haag has an approximate net worth of $7.7 million (assets are valued at $7.8 million, mostly from securities and her personal residence, and liabilities of $103,800).
How is this ivory tower United States Attorney in touch with the urban society around her? Simple answer, she's not. We need to reach out to her and explain the situation in the community. People are in pain, this plant is being used to help them. Some people prefer a home-grown plant to laboratory produced pharmaceuticals, get over it. As an official sworn to uphold the Constitution, stop wasting my tax dollars violating the 10th Amendment of the US Constitution and allow California to decide how to manage and license medical marijuana.
The only way I can explain US Attorney Melinda Haag's apparent poor judgement is that she is a very intelligent survivor. As we all know until very recent politics, there's no political downside to threatening marijuana. She is most likely attempting to keep her cushy job in the shadow of a Mitt Romney White House (after the probable Obama 2012 loss). Very sad for the movement indeed. We must organize our voting bloc and let our elected officials know what we want on our streets regulated in our society.
Speak up and email: Melinda.Haag@usdoj.gov or call: (415) 436-7200.
At the very least support Civil Liberties and by sending your "Like" of the Facebook: "Fire US Attorney Melinda Haag Page" and then join the Cannabis Voting Bloc.
Ultimately we must all tell US Attorney Melinda Haag and all of our elected officials that we must reschedule marijuana.