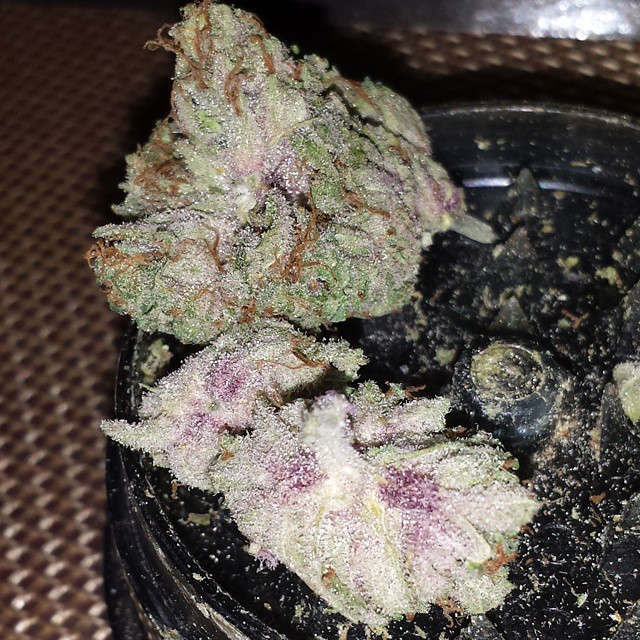 Posted by @ricgreen
Even the headiest of heady dabbers still find time to smoke. They'd be fools not to with the level of fire that's creeping around these days. Shouts out to IG boss Ric Green for posting these frosty ass nugs. This is Pink 2.0 from Exotic Genetix & provided by A Greener Today — and it's definitely Instafire.
As you might imagine, it takes a special strain to get a dabber's dabber combusting again. Pink 2.0 is one of those strains you want to frame and put on your wall. It's greens and reds assure you it means business, while that eye popping pink is saying "you might wanna find a couch." I've not yet had the pleasure, but after doing some reading I intend to chase down this amazing hybrid. If you're wondering what research looks like for a cannabis blogger, it's a dab of sativa plus the following:
"Due to the popular demand of Predator Pink… It was only right that we bring something similar back to the table for everyone to enjoy. In order to try and keep her as original as possible, we used the best Pink pheno from the F1 stock and took it not only back to starfighter… But to the Starfighter F2 Stud that enhances just about everything it touches. Even though we were going for a recreation of a cherished hybrid from our stable… With the 2.0 we are dealing with somewhat of a line breed, with doubled the amount of starfighter as the first, the result puts a little more emphasis on on the fighter involved. Yes you will get those sought after pink phenos, but also ultra frostmonster mega yielders without the pink color too. Yes there will be variety, not everything will be pink, but the green phenos will most definitely not disappoint.

My personal favorite pheno was a colorful, stout, heavy weight gal with a stench of sour skittles covered in a flavor of cotton candy that coats the pallet nicely. Her effects travel from the eyes throughout the body in rapid succession. Don't let the color fool you on the pinkies… Some of the most colorful of the bunch tested in at as high as 21% THC. An all around great version with even more hidden gems than the first!

Mother: Predator Pink
Father: Starfighter F2
Family: 60/40 Indica Dominant
Growing Conditions: Multi Topped Shrub
Height: Medium-Tall
Indoor Flowering Time: 50-56 Days
Yield: Heavy Producer"
P.S. Then I run and find some #SeattleStoners
Check out other posts from Weedist's Instafire series!