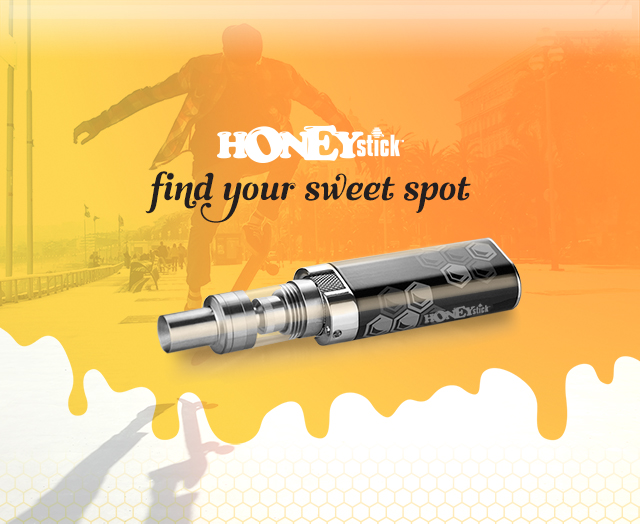 The Honey Stick Sub-Ohm Vaporizer is the self-proclaimed first sub-ohm vape for concentrates, and it's crafted to deliver thick, full, clean hits of pure vapor. I'm here to tell you, it does not disappoint! But before we get into that, let's first explore the many great features of this vaporizer's design.
The Honey Stick vaporizer features:
Sub-Ohm ultra low resistance (0.3Ω) coil.
Built-in 2600 mAh battery with USB charging
Variable voltage range: 2V – 8V; variable wattage range: 5W – 36W
Top filling, no leakage, pyrex reservoir tank (2ml capacity)
Pre-built sub-ohm organic cotton coil (OCC)
Adjustable airflow
Wide-bore mouthpiece with mesh safety screen
510 and eGo threaded adapter
OLED digital display screen
Suffice it to say, the Honey Stick is a supremely well built and meticulously well-thought out machine. The vaporizer comes in clean and colorful packaging, equipped with the smart mod unit, the tank and mouthpiece, a USB charger, a lanyard, and 70/30 PG/VG coil primer. It is designed to "convert[s] CO2 extracts, essential oils (including THC and CBD oils where legally permitted), and/or e-liquids into an inhalable vapor."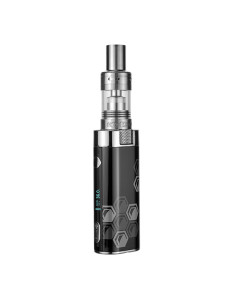 The vaporizer is easily assembled, and is sturdy with a fair weight. The smart mod is black, with a white honeycomb pattern that is sleek and yet discreet — two features I truly admire in a vape. The unit comes fully charged, and only requires about 2 hours on the charger to regain full battery life. Once fully juiced, the unit performed unfailing for about three days, with several vape sessions each day.
The unit's mouthpiece is slender  and long, and features a mesh safety screen.The tank is fairly large and held an extremely agreeable amount of Northern Lights THC e-liquid.
It was easy to load the oil by unscrewing the mouthpiece and using a syringe or a careful hand to guide the liquid into the chamber through a small porthole, dispersing it evenly along the coils. The mouthpiece then screws back on and it's ready to go!
Three buttons provide the controls for the vaporizer. Five quick clicks of the main button turns the unit on or off, (with the LED screen saying "goodbye" for the latter). This same button is to be held while drawing on the mouthpiece, creating the puff of vapor. Additionally, plus and minus sign buttons control the voltage range. I started at the lowest of 2.0V and found it to provide a perfect vape session.
Despite all of the complex engineering that went into this vape, the Honey Stick actually proved to be quite simple to use and very user friendly. And this is where the Honey Stick truly shines — performance. Not once did I receive a medicore hit from this vape. Unlike other vapes I've used, the Honey Stick delivered instant gratification time and time again without fail. Thick, illustrious clouds of vapor poured past my lips with each hit, providing flavor that was crisp and clean. This vaporizer is designed to provide incredible hits, and it does just that.
Whether you're considering a sub-ohm vaporizer for the first time, or looking to upgrade to a new one, the Honey Stick is a solid, performance-oriented machine that will have you puffing absolute clouds of vapor in no time.