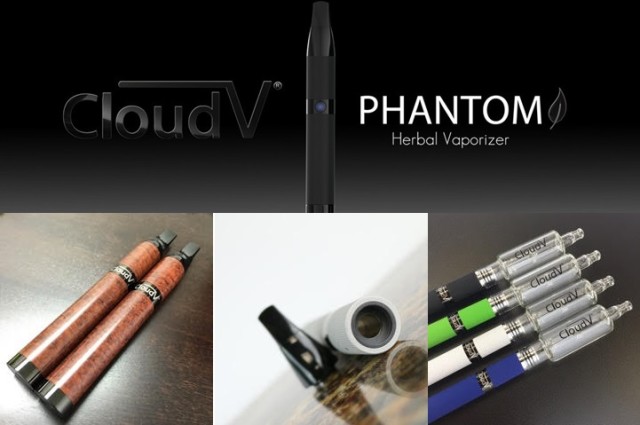 The Cloud V Phantom Premium herbal vaporizer is a vaporizer on a mission: a mission to bring you the best, most satisfying vape session possible.
Make no mistake, this vape is not messing around. This isn't a tiny, featherweight and delicate vape — but rather a sturdy, durable, powerful machine that fits confidently in the palm of your hand with a presence that says, "I am here. You're welcome."
The vaporizer is controlled by a single button. Three quick clicks turn it on and holding the button down allows the user to cycle through three efficient temperature modes signaled by the colors green, blue and red. The best setting for vaporizing cannabis? The second — blue. A safety feature turns the vaporizer off automatically after three minutes, which is an appreciated function that I did not find inconvenient.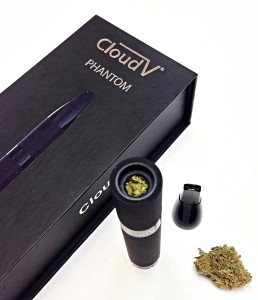 After easily removing the locked mouthpiece and filling the respectably sized chamber with some of the sativa stain, Wet Dream, I replaced the mouthpiece and turned it on to the blue setting. In mere moments, it was ready, and I was happily puffing away.
When I say this vaporizer does not hold back, I mean it. It worked thoroughly and very efficiently, and each and every puff was thick, full and smooth. One session lasted many, many rounds and by the end of it, I had a nicer high than I've had in a long time. It's easy to get super baked using the Cloud V Phantom vaporizer, because each hit is so smooth–but so thick–you don't even realize at first how much you are vaping.
The vaporizer is available in an array of vibrant and natural colors, and comes with the following:
1 Cloud Phantom Premium Herbal Vaporizer
1 Cleaning Brush
1 Packing Tool
1 Pair Tweezers
1 Micro USB Charging Cable
1 Owner's Manual
The Cloud V also charges swiftly and holds that charge for a very respectable length of time. I used it several times over three days and it didn't need a charge until the third day. Additionally, Cloud V offer special power banks for their vaporizers, which allow for easy charging on the go and in all situations.
This review would not be complete without the mention of a truly special accessory made for this vaporizer — one that offers an incredibly unique and enjoyable experience. I'm talking about the Cloud V Aqua Bubbler. Yes–that's right– a bubbler attachment for your vaporizer.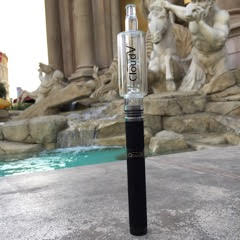 If you're feeling shocked, confused and a touch aroused, it's okay — that's natural. I'm sure you're wondering what on earth it's like to smoke vapor through a bubbler, and I'm here to tell you it is amazing. The cleanest, smoothest, silkiest hits you've ever dreamed of.
Because vapor is already so clean, even after several days of multiple use, the water in the bubbler attachment is still crystal clear and smells fresh. This alone is a testament to the health benefits of vaping vs. smoking. But make no mistake — the water cools down the vapor, further purifies it, and makes an already great vape, even better. It also features a non-spill structure and a small carb near the base, which allows for convenient and effective control of airflow.
Holding this thing in my hand felt like wielding a powerful wand (Harry Potter nerd here #sorrynotsorry) or a mighty scepter. A bubbler attachment for a vaporizer may sound crazy, but I'm here to tell you it's the goddamn future.
Overall, the Cloud V Phantom Premium herbal vaporizer swiftly became one of my favorite (if not my absolute favorite) vaporizers to-date. Between being effective, durable, clear cut and having incredible bubbler capabilities, it is a vaporizer as effective as it is extraordinary.
 Check out other posts from Weedist's Product Review series!
Is this the last Weedist post ever?