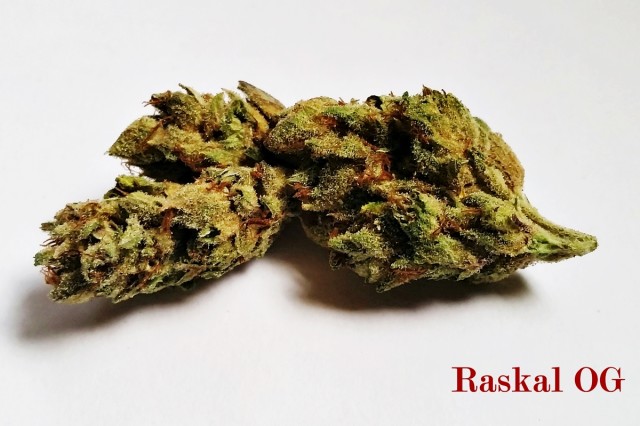 100% kush-love is what Raskal OG has to offer. Being a cross of SFV OGK (or San Fernando Valley OG Kush, a phenotype of OG Kush) and Fire Kush (or the Fire cut aka "supreme cut"of OG Kush), this strain is everything you ever wanted in OG Kush. Many growers will state the probability of this cross, as the Fire Kush is somewhat of just a guess. Nonetheless, as a kush fan girl, this strain has me wrapped around its finger.
This product also shows the superb variety that the various Clinic dispensary locations throughout Denver have to offer to their medical and recreational consumers. I got this particular Raskal OG from the Clinic on Colfax. I also found out that this strain was a 2012 3rd place hybrid winner at High Times Cannabis Cup in Denver, and I see why.
There I was standing at the display counters of the Clinic with at least 30 beautiful strains staring back at me, and as you may imagine, it took me awhile to make my final selections. But the Raskal OG ended up being among my selection for many reasons. I know I always say I love kush strains, and I cannot say it enough. A beautiful kush is simply that — a holder of great benefits across the board. I say this about Raskal OG in particular because of its more mixed hybrid nature.
Because of balanced effects between the sativa and indica qualities, the Clinic suggests its use for chronic pain and anxiety, and I cannot agree more on the bodily chronic pain aspect. They also tested this harvest of Raskal OG, and the results read THC at 23.5%, and a very small amount of CBD is present as well, with 1.1%.
Knowing what the genetics were was the first step in convincing me to try this strain, and I've heard many people compare it to Tahoe OG before, which I also enjoy very much, so I thought I may like it too. But when I saw her, the beauty captured my attention. The calyxes are long and slender, pointing upright to the tapered end atop, which left the bottom of the nugs looking round and full. However, the trichome coverage is what got me. Dense trichomes of amber and milky white cover the entirety of the surface, and your fingers when breaking up the buds.
The smell is very nice and refreshing for a summer time favorite, with slight hints of lemon zest, a whisper of pine, and a bijou bouquet of citrus. The overall smell quality is pleasant and still very earthy. The taste is transformed from the subtle hints of citrus and pine, to a more robust flavor now, including fuel-like notes of diesel.
I mentioned above that this strain is recommended for pain and anxiety, and I have to concur with this assessment. But even more so, the hybrid nature of Raskal OG left me feeling uplifted and sociable, but not overly energetic or jittery. It did not induce any ill effects such as paranoia, but rather also made me feel super chill and relaxed, even among new acquaintances. So I can conclude in saying, I think this is a great strain for almost any reason to enjoy cannabis: medically, recreationally, for pain, or for pleasure.
Check out other posts from Weedist's My Favorite Strains series!