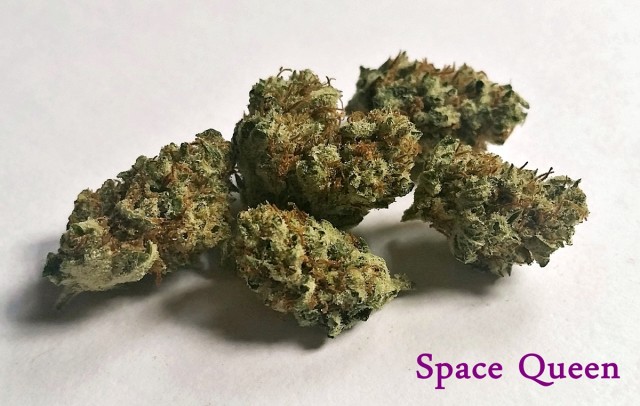 Space Queen shares the parents of many of my other favorite strains, such as Jillybean and Jack the Ripper, which is a reason why she too is a favorite strain of mine. Space Queen comes from the breeding cross of Romulan and C99 (aka Cinderella 99) and is a sativa dominant hybrid at an approximate 55/45 split.
I absolutely relish in the stunning quality of Space Queen every time I get to enjoy her flowers. The appearance, the smell, the taste and effect are all superb and par none against many other strains in my opinion. Space Queen (and her daughter strains) are hard to beat.
Almost with 100% accuracy, the nugs of Space Queen are dense and very trichome rich. Along with many long orange hairs are brightly colored flower buds that are enticing to the eyes. The aroma carries along what most other Romulan strains do, a very dry earthy soil smell, but one that is highlighted with fruity notes — namely tropical fruits or pineapple and a slight hint of red berries.
The taste of Space Queen coincides with her aromas, and what you'd believe her to taste like knowing her genetics, and which strains also stem from this genetic pool of parent types, such as Agent Orange.  The fruitiness is carried through, but more of a woodsy, au natural, musky wood quality comes along with the sweetness. As a side note, I've also noticed over the numerous times I've had the Space Queen strain, that the longer the cure time, the sweeter and less pungent she can both smell and taste, but it especially seems essential in obtaining the desired smell.
Romulan is one of my favorite indica strains, and Cinderella 99 is one of my favorite sativa strains. Both because of the type of effect and medicinal value they have to offer. Space Queen is a great example of these two merged together. From the C99 side is an uplifting, creative, mental energy that sweeps over you within minutes of consuming. But she's not too energetic to induce paranoia (in most), and I feel is somewhat leveled off with the indica effects of minute body relaxation that lasts as long as the cerebral component of the buzz.
However, there are a few down sides to Space Queen, though, not ones that keep me away from her. I sometimes experience dry mouth, (aka "cotton mouth") after smoking her flowers, but if in a water pipe, the frequency of such seems to diminish.
Whether in flower form or concentrate, Space Queen is always a welcoming treat that gives my entire being a boost.