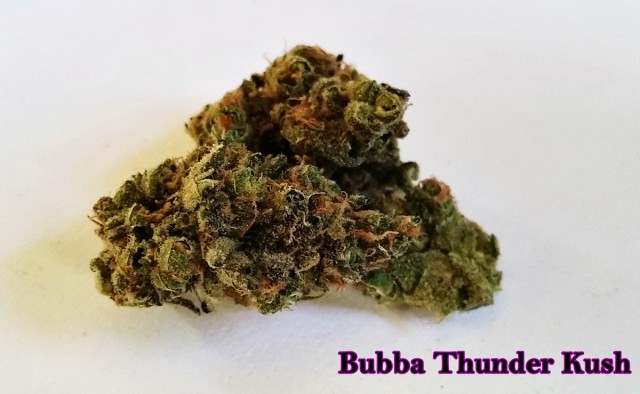 This strain is sort of mysterious, but be that as it may, she still conceals great medicine. Bubba Thunder Kush from Natural Mystic Wellness Center in Colorado Springs is known for her high CBD values, averaging at 10.5% and in a comparable ratio to THC at 9% and is considered a hybrid strain. I say mysterious though due to the fact I can guess her potential parent strains, possibly Bubba Kush, and either Alaskan Thunder or Matanuska Thunder (I'll leave the profane "F" word out) strains, but cannot be certain. Both of the latter are also elusive strains heritage-wise.
Additionally, when I was looking at the dispensary, this strain came to my attention, not only because of the high CBD, but because the budtender referred to her as a "hemp cross." This makes me wonder why she's labeled as such. Is she crossed with a lower THC/higher CBD cannabis crop, or is there a factor I'm missing? I'm still waiting on an answer.
Bubba Thunder Kush has alluring flowers, ones that are very visually appealing, and draw you in for a whiff. The calyxes and leaves are darker green which allow the trichomes to pop out more, showing off their amber hues and knobby heads, overall giving a fuzzy textured appearance.
When I first popped the top on this jar of Bubba Thunder Kush all I could think of was beer; this herb smells exactly like the fresh fermentation of hops. But like a good craft brew, cannabis needs a well-rounded aroma and taste profile also. On top of the hops is an earthy sage and black pepper blanket, but ends with chocolaty notes. As I break up the buds, a sticky residue covers my fingers and a slightly sweet scent arises, but wholly, I'd say this strain reminds me of a  bubble hash in her smell alone.
The taste is a bit different, but very smooth and mellow. Reminiscent of those earthy aromas, a creamy sweetness takes over the first inhalation. Next come anise or licorice hints with a meager minty sidekick for some zing. As I noted before, Bubba Thunder Kush is known as a high CBD strain and this is experienced after smoking. Instead of getting too buzzed, I felt rather just more relaxed than I was before smoking, but my appetite went through the roof. I could still feel the effects of the 9% THC but nothing compared to a 15-20% strain that is now seemingly the normal concentrations the majority of people are looking for. But no matter the amount of THC in this medicinal strain, she still filled the job I'm looking for — a nice herbal relaxation.
Check out other posts from Weedist's My Favorite Strains series!