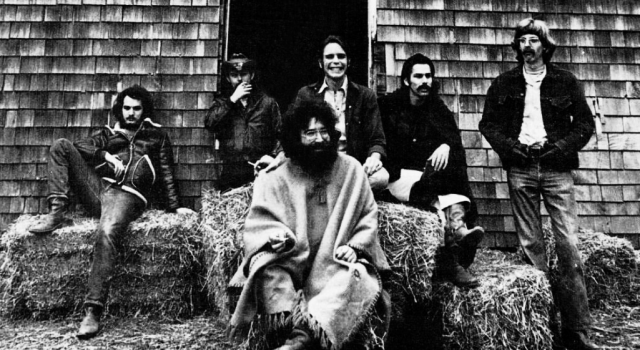 The Grateful Dead are, simply put, one of the most widely loved and influential musical acts in American history. Godfathers of what is now referred to as the "jam band" scene, their 40+ years of musical output is slated to end this July 4th weekend, when the "core four" remaining living members will play what they say will be their absolute final shows together. What a long, strange trip it has been, indeed.
Beginning as a jug band in San Francisco at the beginning and height of the "hippie" movement of the 1960s, the Dead spent the later 60s and early 70s making classic country-influenced folk-rock albums (Workingman's Dead and especially American Beauty are timeless pieces of American music), and spent the rest of the 70s through the mid-90s becoming one of the highest grossing touring acts in the history of modern music.
They gained playing experience and notoriety in the early days as the "house band" for Merry Prankster Ken Kesey's "acid tests" around the Haight-Ashbury neighborhood of San Francisco. Over the years they amassed a following of "deadheads;" super fans that formed their own tribe and would follow the band around from show to show.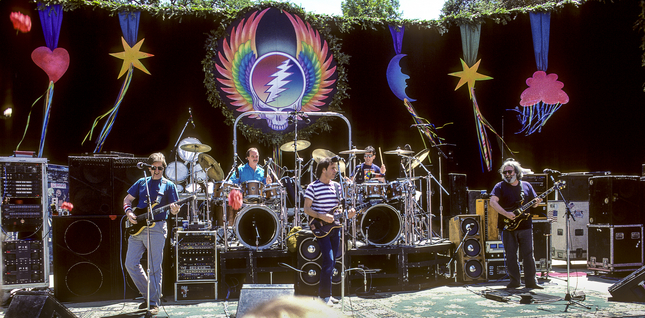 Their live shows are the stuff of legend because of their staunch commitment to improvisation, never playing an entire set of even a single song the same way twice. It is that sense of freedom (both musically and with regards to lifestyle) that attracted so many people to their music, which touched on everything from rock 'n' roll to folk to bluegrass and jazz, and everything in between.
The hippie culture of tie-dye, free love, and (of course) cannabis use is impossible to divorce from The Grateful Dead, which served as the soundtrack to an era. Look at a few setlists from their heyday and you'll probably recognize some strain names; that is certainly no coincidence.
While the members always saw themselves as a collective (even going so far as collectively owning all of their equipment), the de facto "frontman" was lead guitarist Jerry Garcia. A virtuoso, his solos have been picked apart by countless guitarists and his ability to weave his guitar throughout the music has impacted so many musicians.
However, the other members are legends in their own right. Rhythm guitarist Bob Weir just had a documentary released on Netflix called "The Other One" that firmly establishes his own influential achievements. Bassist Phil Lesh is considered a master of the perfectly placed note, and the two drummers (aka "rhythm devils") Bill Kreutzmann and Mickey Hart inspired more than just a few future drummers with their ability to be loose and rock-solidly intertwined at the same time.
The Dead's legendary ride was cut short by the unexpected death of Jerry Garcia in 1995 after a long battle with drug addiction and bad health. The remaining members all have since played in their own groups and toured intermittently together under names like The Other Ones, The Dead, and Further.
Now, all well into their 60s and 70s, the remaining members announced that this summer is it for their live shows together. They will be joined by Phish lead guitarist Trey Anastasio and keyboardist Jeff Chimenti and Bruce Hornsby at Chicago's Soldier Field, the site of the last show played with Jerry Garcia.
What else can I really say about the Dead in 2015 that hasn't already been said in countless books and think pieces in the last several decades? Their template for how to be a band has been replicated in some way by almost every successful music act in the last several decades, and thanks to obsessive both official and unofficial taping of every one of their unique shows, their music will live on forever.

There was a time in the mid-to-late 70s, before the advent of hip-hop and sampling, and right before punk became the new hot style, when the Dead were unquestionably the hippest thing in the world. And once newer forms of music came along, the Dead continued to dominate their field and continue to this day to be their own subculture.
As a professional musician who bought his first Dick's Picks CD from my suburban New York Circuit City at the age of 13, I will absolutely watch the final Dead shows, fat joint at the ready (either on Youtube streaming live, or at any number of public showings, because I just don't have the funds to make it to Chicago in person.)
If you've read this far and haven't ever seriously listened to a recording of the Grateful Dead, here's a few links and videos you should click on immediately. Heck, click on them even if you're a seasoned deadhead, listening is always a real good time.
…and finally, here are two of my personal favorite sources for some great full live Dead shows.