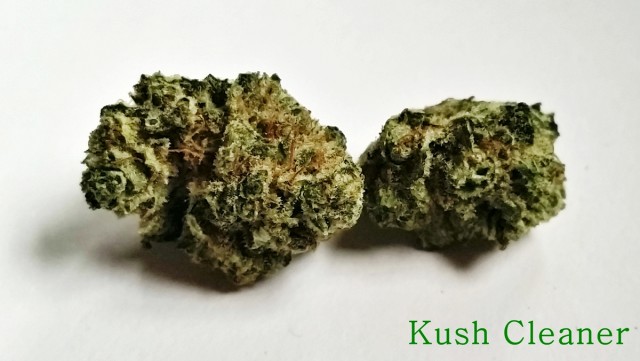 This strain is a simple beauty, well-rounded, but educated in the medicinal benefits of properly grown cannabis. Kush Cleaner doesn't necessarily stand out in the crowd among showy "fire" buds, unless you're searching for the keen yet subtle characteristics cannabis can conceal.
Kush Cleaner of course comes from the Jack's Cleaner strain, which is a sativa dominant strain consisting of Jack Herer and The Cleaner. The partner cross is somewhat of a mystery though. One would assume that because it does contain Kush genetics, that OG Kush/Kush OG would be the given choice. But that may not hold true (in all, or most cases). Some references say that it could be a Purple Kush or Ogre OG (or Master Kush x Bubba Kush). Without a doubt however, it's undeniable once smoked that kush genetics are surely there, and in a high concentration in conjunction with the Jack's Cleaner effects.
She looks very kush like also — rounded and very dense buds, with bright greens mixed with olive tones, allowing amber and milky silver trichomes to pop. As you pull apart the plump calyxes, tiny and short slightly brown pistils appear in higher numbers than what is observable from the outer shell. Fingers become coated with a nice sticky residue from all of the trichomes that cover each and every surface of these buds. On the other hand, the smell is a balanced mix between what one would find with Jack's Cleaner, lemon, menthol, and pine, along with a touch of the earthy aromas kush strains are known for. But she tastes exactly like a kush. Kush Cleaner ends up tasting very earthy, musty and green… all in a very good way. She's so earthy, she may be pungent, like a good compost.
Even though Kush Cleaner comes from a sativa background and is categorized as a sativa dominant hybrid strain, her effects are mostly in the body and gives the consumer a very relaxed state of bodily being. Contrary to the indica side, and following her sativa character, she first gives off a touch of cerebral zing and alertness. I believe this transition is good for decreasing stress and allowing myself to process the day's events and relieve tensions as well. She's good to use on a weekend day for all day use, but during the work week I personally leave her to off-peak hours so I can thoroughly enjoy her full range of effects. In whatever regard, Kush Cleaner didn't let me down. She's well put together, but kept simple, and as a cannabis connoisseur I can truly appreciate her style.