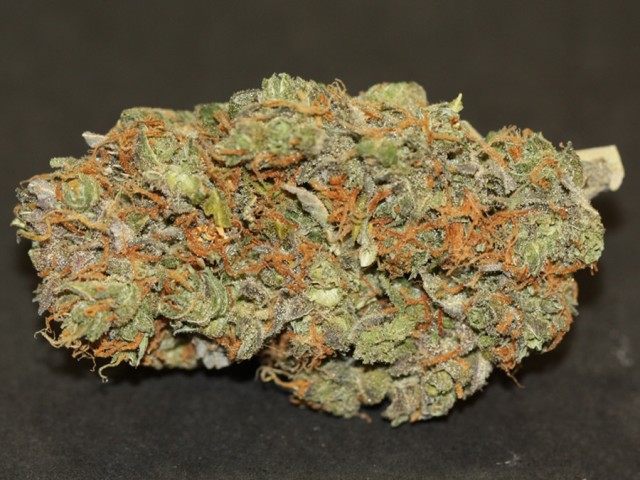 I hail originally from Ohio, the heart of it all, even when it comes to cannabis. Many strains are known or rumored to come from Ohio, including this next strain, Death Star. This beauty has been a favorite of mine since I can remember, and has been making a comeback here in many Colorado dispensaries lately, notably in the recreational or 21+ adult stores. She's been a favorite since her boost in popularity in or about the early 2000's due to potent effects and pungent aromas, which is also why I can say Death Star is one of my favorite strains.
Her genetics give away the secret to her potency and the strength of her medicinal effects. Coming from a Sensi Star father and a Sour Diesel mother, she leans towards an indica dominant hybrid strain, but can be a more level hybrid depending on phenotype. Whichever way she leans, her effects are rather balanced between indica and sativa, as well as body and mind aspects. After smoking her, my brain and mental state race into euphoria, but my body keeps me grounded in the moment and allows me to marvel at her balance as I rejuvenate myself.
The buds of Death Star are like the space battle station and super-weapon from the Star Wars movies — dense, protective of the inner components, and hard with little give. Her trichomes are very special as they can change color due to growing conditions and temperatures. If grown with warmer temperatures her trichomes will sparkle a white, silver and cloudy grey. But as temperatures drop, her trichomes are known to gain a purple or lavender appearance, as can her calyxes and leaves.
Her smell is one a cannabis connoisseur looks for — an array of aromas that each compliment each other. Death Star starts off smelling sweet and fruity like her Sensi Star father, but carries a back end that is extremely pungent and smells of diesel-like qualities stemming from her mother's Sour D genetics. There's also subtle notes of earth, lemon and mint to further tantalize your nose.
I usually enjoy my Death Star in joint form, simply because that's my favorite method of toking, but some can find this strain to be harsh on the throat no matter the cure. So for those who do, I recommend getting a nice dry herb vaporizer to fully enjoy Death Star. Her taste is skunkier and has diesel notes more than sweet and fruity, but is still enjoyable to those who usually dislike pungent strains, like myself.
Lastly, her effects, as I noted before, are an equal balance between indica (or body) and sativa (or mind) effect. I like this because I can get myself going and become creative with the mental energy, or I can sink into the couch and relax with my favorite TV series or a movie. And in the end, whichever way the benefits of this strain lean, I've never been disappointed with Death Star in the past, and surely am not with this harvest either.