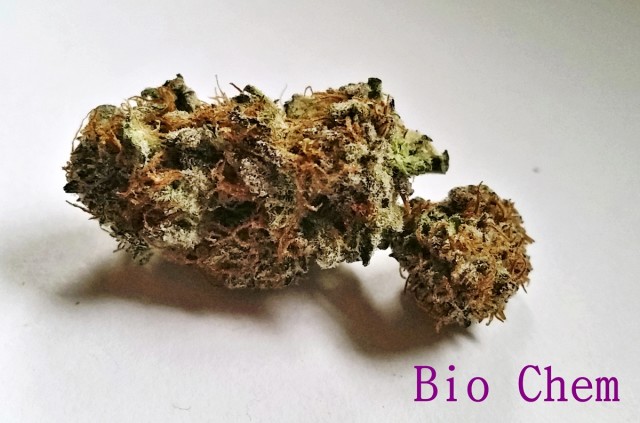 I first had this strain in the concentrate form of dabs/wax from a nice friend of mine, and from then on I was on a search to find the flower of this powerful strain. And lucky me, the next visit to one of my favorite recreational shops granted me my wish.
The flower of Bio Chem reveals why she makes such a good concentrate, from the outer appearance to her inner medicinal qualities and potent effects. Bio Chem bred by 303 seeds comes from the cross of Chem Dawg x Bio Diesel and in turn is an almost truly balanced hybrid between the indica and sativa characteristics. This is also true because Bio Diesel is a tri-Diesel cross of Sour Diesel, Original Diesel and NYC Diesel, then crossed with Sensi Star.
The nuggets I got of Bio Chem are quite stunning; with long and slender burnt orange hairs wrapping around the entire surface. Underneath is a dense wall created by the forest green calyxes that have a shadowed appearance due to a hint of purple hues here and there. But as you break apart these buds, a spongy but very sticky texture is experienced, pointing clearly at a good flush and cure of this specific harvest — and a warning that a grinder may not be the best way to break up these buds.
This quality is also apparent when you break open her buds, as a soft but pungent aroma hits your nose. A scent profile with several attributes, from slight notes of earthiness, diesel and a musty sourness, all mash together as one, giving this strain a very peculiar smell. The taste follows this profile, but as you inhale the taste differs from the exhale. This is a transformation in the bud and terpenes that I enjoy as a weedist. As you first take a hit the taste is sweet and earthy, but as you exhale the diesel and more pungent tastes come through.
As an additional side note, I always experience a nasal tickle from this strain too, from her parent strain of Chem Dawg, though it is not unpleasant. I say this because a few seconds after you exhale a creaminess or nuttiness takes over and relieves your mouth, nose and brain of the perceived harshness of Bio Chem.
I completely enjoyed these Bio Chem flowers, in every respect. From her sticky and aromatic qualities, to her effects. After a few minutes of smoking I could feel the tell tale signs of the quintessential "head change" of a good sativa. Then I realized I'd not done much in the last half hour either. So this strain may have sucked some motivation out from under me (thanks to the indica genetics), but she gave me relief from aches, pains and tension of a busy week, a benefit I'm always looking for. And with that all said, I'd love to add a plant (or 2) of this to my personal garden one day.