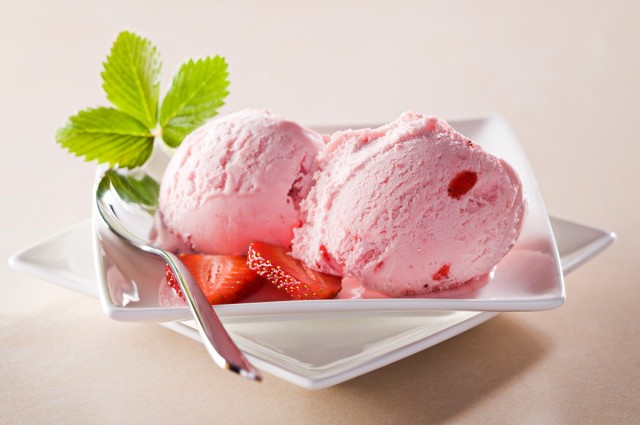 Strawberry season has begun, and I just can't get enough of those juicy red berries. Mint compliments strawberries in unbelievably decadent ways, especially when it comes to the delicious chocolate mint variety. This medicated recipe combines the flavors of strawberries, chocolate mint and lemon for a rich, creamy dessert that is perfect for warm Summer days.
Yields 1 qt
Here's What You Need:
16 oz fresh ripe strawberries (chopped)
2 tablespoons fresh chocolate mint (chopped)
2 tablespoons freshly squeezed lemon juice
14 oz can sweetened condensed milk
5 oz can evaporated milk
1 1/2 cups cannamilk
2 tablespoons coconut sugar
1/8 teaspoon salt
Electric ice-cream maker
How to Make Strawberry Chocolate Mint Ice Cream
Begin by combining the cannamilk, sweetened condensed mik, evaporated milk, coconut sugar and salt in a bowl. Whisk thoroughly. Cover the bowl and set in the fridge to chill for two hours.
While waiting, add the strawberries, chocolate mint and lemon juice to a food processor and pulse 6 times, or until the ingredients are finely chopped.
Next, when the milk mixture is finished cooling, add it to the strawberry mixture and stir gently to combine.
Pour the mixed ingredients into the freezer container of your 1-qt ice cream maker. Proceed to freeze following the machine's manufacturer instructions, which may vary depending on the unit you own.
Once this part of the process is complete, remove the ice cream container from the machine and place it in the freezer for 30 minutes uncovered. Then, move the ice cream into an airtight container and freeze for an additional 3-4 hours, or until the mixture is firm and the proper consistency.
Serve 1-2 scoops at a time with a sprig of fresh chocolate mint and a single strawberry on top as a garnish. Enjoy!
Check out other posts from Weedist's Great Edibles Recipes series!