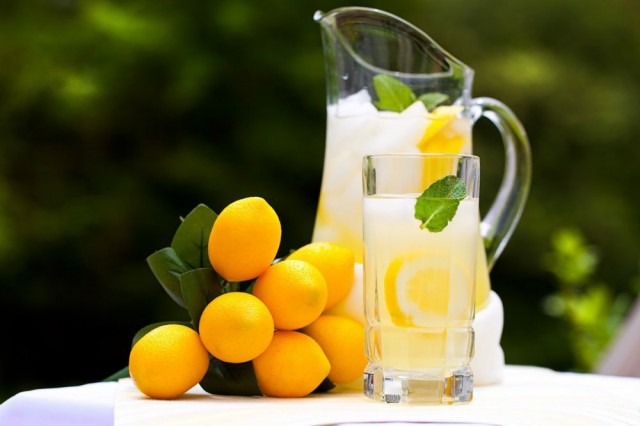 Sweet, sour, refreshing fresh-squeezed lemonade. Is there anything more positively evocative of Summer? A warm sunny day and a cool glass of lemonade are timeless counterparts. This delicious version brings a cannabis twist to the timeless classic, making it the perfect option for medicating on a warm Summer day. Alternatively, consider serving alongside medicated black bean burgers for a cannabis infused meal fit for mid-summer royalty.
Yields 8 servings
Here's What You Need:
1 1/2 cups fresh squeezed lemon juice (roughly 10 lemons)
1 cup coconut sugar
6 cups chilled, filtered water
2 tablespoons glycerine tincture (adjust according to medicinal needs)
Optional garnishes: mint leaves, lemon wedge
How to Make Fresh Squeezed Lemonade
Begin by juicing the lemons. There are many different ways to effectively and easily juice a lemon. I prefer the old fashioned way of just cutting and squeezing, but choose whatever method suits your needs! Collect the juice in a bowl as you go. When finished, measure out 1 1/2 cups of the juice and add it to a large pitcher or one gallon container.
Next, add the 1 cup coconut sugar to the lemon juice. Stir until fully dissolved. Then, add the 2 tablespoons of glycerine based cannabis tincture. Stir to combine.
Finally, stir in the 6 cups of chilled, filtered water.
Serve with ice and your choice of garnish. Enjoy!
Check out other posts from Weedist's Great Edibles Recipes series!