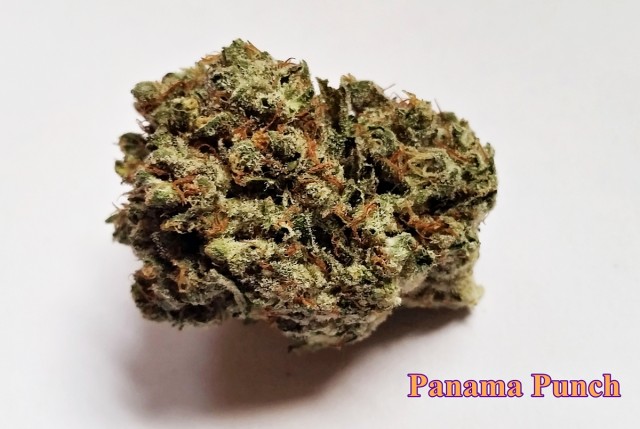 I'm never disappointed when I go to any of the Clinic locations throughout the Denver area, and especially not when I would up purchasing the strain called Panama Punch.
Panama Punch is the result of pairing Panama Mean Green with Neville's Haze, both very well known strains for their beauty and medicinal qualities. This makes Panama Punch a heavy sativa dominant hybrid.
The quality of the cannabis product can be seen in the Clinic display rooms, as well as their state of the art packaging, which is a heat sealed bag filled with nitrogen to decrease the atrophy or degradation of the cannabis quality, and allow for moisture retention compared to plastic bags or containers. Inside these ballooned bags I found myself with a pre-weighed 1/8th ounce, all in one nug. One huge, bigger than golf ball size nugget. Not many dispensaries keep their flowers in whole form like this, and this I took note to and really appreciated.
I chose this strain though based on the smell and appearance alone. The smell is hard hitting, but one that allows me to rejoice in the sweet nectar cannabis flowers can emit. As soon as the budtender opened the display jar I knew this strain was one I eagerly wanted to taste, as my mouth was already watering. Fruit on fruit on fruit is all I can say.
Fruit cocktail, a fruity beverage, tropical punch — you name the fruit, it seems to be in there. From red berries, grapes, pears and apple, to tropical pineapple and mango, it's a cornucopia of aromas. But on the very tail end is a scent I can't quite distinguish, then it dawns on me… raisins?! The haze component is there, but delicate, maybe this raisin smell is reminiscent of such.
I was very excited to get home to try this strain, and did so as soon as I could. The taste isn't exactly as it smells but is pretty close. The haze like qualities definitely emerge more in the foreground of the taste profile than what it held in the aromatics. Her tropical fruit smell is carried over to the taste, in addition to a slight red berry taste that has a creamy texture — maybe like a strawberry and almond milk smoothie.
The smoke is a touch on the harsh side, and I would say if you can enjoy her in a water pipe, please do. I also recommend a water pipe simply because this strain caused some of the worst cottonmouth I've experienced in a long time.
Overall, her effects were very nice and somewhat amusing. I had the energy of being well rested, and a great amount of motivation, relatively speaking, for the end of a long week after a holiday weekend. My energy flowed for a few hours, maybe 5, until I started to feel a bit rundown, but I wasn't so beat I couldn't finish off my day.
All in all, if you like fruity strains with stable genetics and potent effects, then Panama Punch is most definitely a strain for you to try.
Check out other posts from Weedist's My Favorite Strains series!