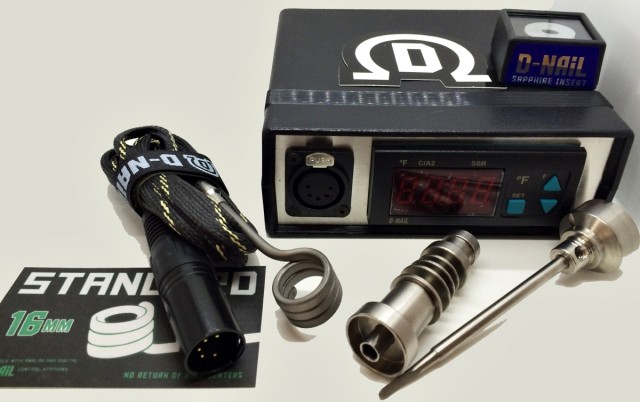 As someone who avoids using a butane torch with weed at home, I was thrilled to get my hands on the D-Nail 1.2 electric nail and give it a serious workout. D-Nail also provided some other sweet items for some domeless dabbing; a Highly Educated OG 16mm nail, D-Nail Carb Cap and Sapphire Insert. The base 1.2 model retails for $600 with a lifetime warranty including a heater replacement, or $500 with a 2-year warranty. Much like the Volcano with flower, you get what you pay for with the D-Nail.
Although originally interested in an electric nail, aka "E-Nail," for better discretion and safety (you will still likely be going to the hospital if you touch a hot nail, regardless of torch vs electric), while using it the past couple of weeks I have come to value the D-Nail for its temperature control. As vaporizers' temperature precision has done for flower, electric nails allow dabbers to maintain a desired temperature.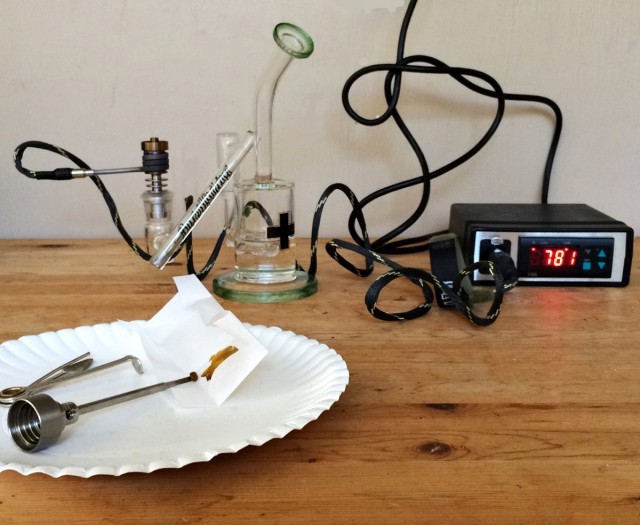 Given that concentrates cost significantly more than flower, this extra control is appreciated for low temperature dabbing to minimize waste and maximize the taste and experience. I've settled into the 600-650F range with the carb cap. For example, low temp dabbing with Chameleon Extracts' super terpy Evergreen OG Nug Run feels like I'm smelling and tasting a Christmas tree.
I picked up a $40 drop down adapter (glass attachment) for my vapor bubbler, which the nail sits in and works as an electric nail adapter. These adapters make it easy to use an electric nail like the D-Nail with your favorite dab rigs and extend its value.
The D-Nail 1.2 can handle up to 1,100F, and 900F is the suggested temperature for the dish cleaning process that comes with use.While not a small investment and it may require a drop down, here are some additional reasons why if you're looking for a high-end electric nail, the D-Nail 1.2 deserves serious consideration:
Quality materials and labor: The digital controller is sturdy and elegant in its simplicity and functionality with a solid warranty. The coil heater has a kevlar sheath and a velcro strap that makes it easy to adjust to a proper length. The carb cap, nail, coil heater all fit great together and was easy to fit into a drop down adapter. D-Nail's are assembled in New York and every component is built or designed in America, Canada, or Europe. It also comes with a handy instruction sheet, and some great stickers to put on your controller (to go along with my Weedist and favorite extract artists' stickers!).
Safety / Convenience features: The controller has two power switches on the back, one for the controller itself (e.g. to set temperature) and the other for the heater. The controller also has a metal push tab to release the coil heater.
Temperature Control: Heats up quickly, within 2 to 3 minutes. More importantly, it can maintain a desired temperature and narrowly fluctuates. Easy to read and set the temperature, in F or C.
In conclusion, I feel confident saying that the D-Nail is a fantastic addition to my weedist gear, and it's certainly expanded my dabbing horizons.
 Check out other posts from Weedist's Product Review series!