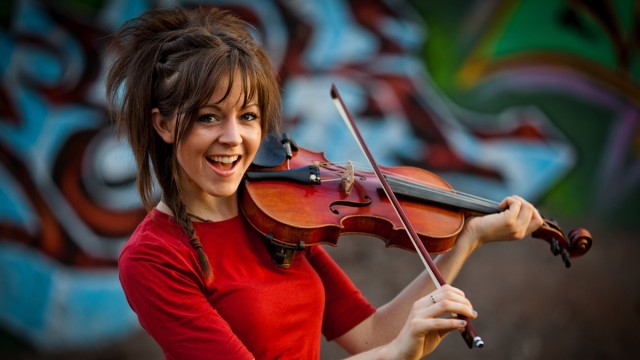 When you think of the type of music you want to listen to while high, violin might not be the first thing that comes to mind. But that's just what I'm going to recommend to you now. If you think violin music isn't your cup of tea, you should give Lindsey Stirling a listen, because it is going to be.
Lindsey Sterling is a U.S. violinist born in the beautiful Santa Ana, California. Born in what she describes as a modest home, Stirling's parents sought out a violin teacher that would give half lessons due to their financial limitations.
Stirling describes, 'The teachers were like, 'I'm sorry, but a child isn't going to learn how to play … in 15 minutes a week.'"
Eventually her teacher agreed and Stirling's instruction began. But violin wasn't her only interest. Stirling was also trained as a dancer, gaining attention on America's Got Talent where she incorporated dance moves into her musical performance.
During an AMA on Reddit, Stirling explained how she had come to pair her two passions, "It is very unnatural to dance while playing the violin. I had to practice so hard to learn how to do it but now it is part of my expression and it comes naturally. I have to know a song perfectly before I can even begin to move. Once I know a song really well I can then have fun dancing."
Stirling is much more than a classical violinist. She frequently pairs her music with electronic and dub-step samples, adding a twist to the soul piercing cries of her violin. Stirling has become somewhat of a YouTube icon, often doing collaboration videos with other famous YouTube artists, such as her cover of Imagine Dragon's "Radioactive," which features Pentatonix, or her Pokemon Dubstep Remix with Kurt Hugo Schneider.
Other collaborations feature artists such as Shaun Barrowes, Jake Bruene and Frank Sacramone, Tay Zonday, Peter Hollens, Alisha Popat, John Allred, Amiee Proal, Megan Nicole, The Piano Guys, Debi Johanson , Sam Tsui, Tyler Ward , Kurt Hugo Schneider, John Legend, and Chester See — just to name a few.
Many of Stirling's songs are covers of popular songs from the radio, video games. or even classic movies. And if her creative arrangements weren't enough already, many of her video's feature dreamlike imagery that is exactly what you'd want to watch while high.
Check out the following video of Stirling dancing in a snow globe accompanied by Halestorm's Lzzy Hale.