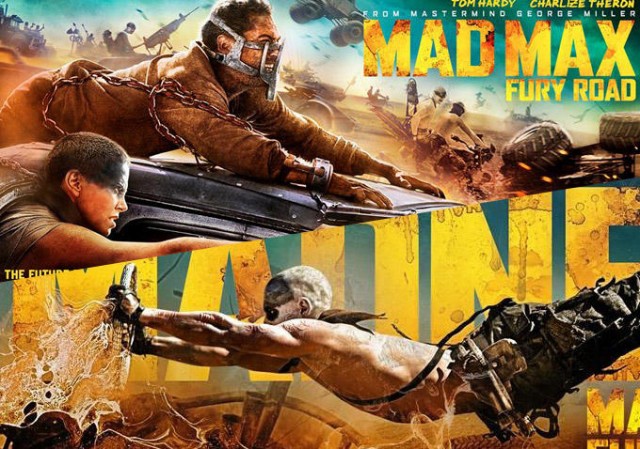 Mad Max just came out last Friday and it has already set the Interwebs ablaze. I'm a tremendous fan of the series and was going to check it out for sure, anyway. However, when I saw that Metacritc had it scored at 89 and Rotten Tomatoes at 99?! — I immediately ponied up for an IMAX 3D ticket. In an internet run over with so-much-hate, a big budget sci-fi reboot is killing it? I had to see what this early hype was about.
I'm not gonna be the first guy to tell you this movie was insane. Nor will I be the first to join the masses in saying this may be one the best films of the year. But I'd love to be the first one to tell you about seeing this film while high. After some consideration, I decided on a dab of Jack Herer nug run resin and a vape full of Pink Predator for this furious journey.
This is easily one of the most epic stoner movie experiences I've ever had. A literal non-stop battle car chase through the craziest post-apocalyptic landscape you've never seen in CGI free IMAX 3D with surround sound! It's everything my stoned mind has ever craved in a film, right down to profundity.
Non-stop action—that can't be overstated—amazing visuals, and a mythically deep story that I didn't have to think about right away. I know that sounds strange, but when you see it you'll know what I mean. There's very little dialogue, but a hell of a lot is said. I could say more, but if we're talking weed here, it's so worth going in fresh.
Also, women reading should not dismiss this as a guy movie. It's refreshingly pro-woman and that's pretty awesome.
Any curiosity you might have is immediately satisfied with the trailer. Just take it and scale everything up a 1000x. Every character is awesome, every vehicle is art work and the action makes me never want to see a comic movie again. This is a completely fluff free, real deal, adventure film.
Full disclosure, I'm a film analyst by degree and would love to go on, but I won't. I'll keep it short and sweet, just like this movie; 2 hours flat and right in the stoner attention wheel house. This film is immediately weedist approved and fires on all 8 cylinders. Indica, Sativa, Edible, Shatter, Wax, Hash, Rosin and Resin.
 Pack your pipes and enjoy this epic ride.
Check out other posts from Weedist's Great Movies While High series!