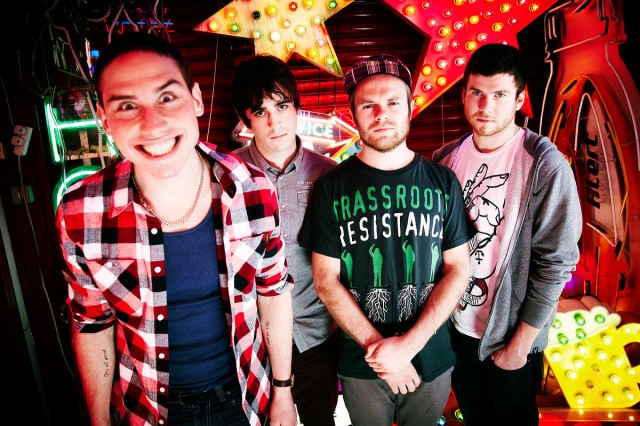 Enter Shikari is a four-piece band from England that formed in St Albans, Hertfordshire, in 2003. The band is considered to have pioneered a new genre called electronicore, so if you're looking for something different, you've found it.
The first time I saw Enter Shikari, I was incredibly tired from a long night of music and I had already seen the band I came for. I kind of wanted to go home, but luckily I stayed for what turned into another hour and a half of crazy fans, silly stage banter, a psychedelic lights show, and of course, electro-musical chaos.
The bands name comes from a boat owned by the uncle of lead vocalist Roughton "Rou" Reynolds', as well as a character in a play he had written before the band formed. The four piece originally formed as a band named Hybryd in 1999, with Rou Reynolds on guitar and vocals, Chris Batten playing bass guitar, and Rob Rolfe on drums. Guitarist Liam "Rory" Clewlow was recruited to the group in 2003 which then became Enter Shikari. With the new guitarist, Rou began to focus on vocals and electronics.
Enter Shikari has a few slower paced songs like Constellations or Adieu, but in general their songs are fast paced and energetic as in Sorry You're Not a Winner or Hello Tyrannosaurus, Meet Tyrannicide. The best part about the band is the massive amount of raw energy. I have never experienced music that gets me as excited as Enter Shikari does. Each build-up sends electricity through my body in anticipation of the drop, and I'm always wanting more.
Enter Shikari has so many cool sounds and beats in their music; it will keep you entertained indefinitely. You know how in some electronic or dubstep songs there's a really cool part that you listen to the song over and over again just to hear? Yeah it's like that with Enter Shikari except the whole song is that cool part you want to listen to over and over again.
Enter Shikari has political lyrics that touch on anarchism and speak as the voice of revolutionary change in a world with government that values wars and profits over humanity. The band is very much about spreading a message of love and human connectivity to work together towards an ideal world. Even if the lyrics don't speak to you, Rou's awesome synthesizer work and programming will definitely get you moving. I'd highly recommend this band for weedists looking for a new musical experience while high.