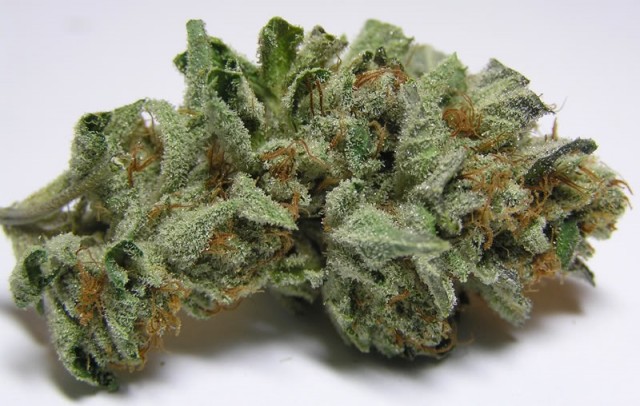 It's a beautiful Saturday morning here in the Rockies, and as I prepare my coffee, I look through my stash and pick out a fitting strain for my mood and hopes for the day ahead. I decide on the beautiful Ghost OG. Her veil of dense, shimmering trichomes catch my eye in the rays of sunshine peeking through my window, I take it as a sign and sit down to start my morning ritual.
Ghost OG is another phenotype of the beloved OG Kush strain and based on rumor alone, the name comes from one of the original growers named "Ghost" on a popular cannabis forum. Her genetic lineage is believed to be Afghani or Pakistani, but possibly took a pit stop down in Florida for a tune up by cross-breeding with Triangle Kush for stability and desired results. Because of this, she is a potent indica strain, technically a hybrid, at a 75/25 ratio.
She holds true to what most weedists love about the "Mother of Kush," OG Kush — the appearance, smell, taste and effects all perfectly stand up to her known capabilities. In my personal opinion, the difference of the two phenotypes is strictly the small variance in smells, with OG being more piney and the Ghost having more lemon or citrus qualities in the forefront.
However, in all honesty, it's hard to distinguish between the two. After doing more research on this phenotypic change in kush genetics, I've found that SFV or San Fernando Valley OG is another phenotypic strain of Ghost OG. There is also the signature scent of musty earth and pine in the terpene profile as well.
Ghost OG looks like a kush, and thus, tastes like a kush (not really proper science there, but, it's mostly true). She's got a early earthy kick, followed by a light citrusy hint of lemon, and leaves a sweet taste in your mouth, rather than the musty oak which one can get from other OG Kush strains.
It is the effects of this phenotype where I start to feel the difference between Ghost OG and her mother strain. After a few minutes I feel waves of enjoyment and happiness, and very relaxed in my muscles and posture (having rheumatoid arthritis comes with morning stiffness and pain, I find ways to help relax through those periods so that I can get in some exercise and stretching before my day begins).
Yet, I am mentally alert and focused on my day ahead. I found it easy to get up after medicating (and one cup of coffee) to do my normal yoga and morning routines. Hours later I still felt energized and mostly pain-free, whereas with OG Kush, after a few hours I'm usually fighting the urge to sit down and fully relax into a deep body buzz and sleep away my day.
In short, I find Ghost OG to be the better choice in the kush family for a wake-n-bake, all day use, or for someone who doesn't like the potent relaxation effects of OG Kush, but loves all the other superb qualities of these strains. I highly recommend it for pain relief, anxiety, and it would probably do wonders for those with insomnia as well.
Check out other posts from Weedist's My Favorite Strains series!