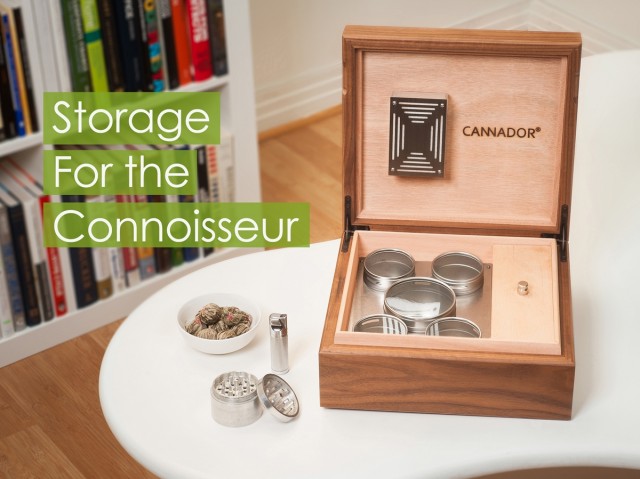 I was recently asked to use and review a new cannabis accessory called the Cannador. As the name implies, it is a humidor for cannabis.
Made of thick, polished Walnut and Cherry wood, the outer case features a beveled edge and seals tightly to prevent any odor leakage. The inside is lined with mahogany, which is excellent at controlling moisture and humidity. Also on the innside, the Cannador sports a well-crafted framework and precisely sized, air-permeable cannabis jars that slide right into place and fit snugly. The look alone is so much more elegant and refined than plastic urine sample jars or ratty Ziploc baggies. The Cannador comes in a large or small and the inside housing is customizable and accommodates many different configurations. You can even get it made with a little side compartment for your pipes, lighters and other cannabis accouterments.
The Cannador has visual appeal, to be sure, but what really made me a believer was the functionality. I'll be honest, when I first was asked to review the Cannador, I thought it seemed kind of silly because I thought, "Who has weed for long enough to necessitate a humidor?" But I strive to be open and unbiased, so I opened my Cannador and followed the instructions.
I wiped the box down, inside and out, with distilled water. I let it "cure" for 24 hours. I submerged 1/4 of the humidity bead container in distilled water and I pulled out a couple of the custom jars.
I had a new bag of weed that was rather on the dry, crumbly side. I prefer a bit more moisture, but dry bud still does the job, so I didn't think too much of it. Well, the other day, after letting some of this dry weed sit untouched inside the jar in the Cannador, I opened it up and inspected the weed. I was very pleased with what I saw. Not only had the Cannador prevented the bud from drying out even further, it actually seemed to revive it. It felt a little sticky and fluffier and I even had a harder time breaking it off the stem.
Now I keep all my weed in my Cannador and can't imagine going back to baggies.
The Cannador is a really great product with both stunning aesthetic presence and outstanding function. A true centerpiece of any weedist's collection.
Now Available in the Weedist Shop!