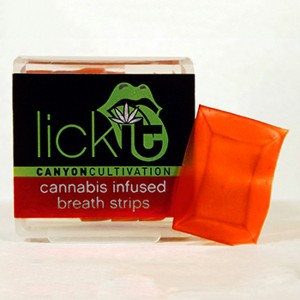 Marijuana edibles come in many different types these days, thanks to the growing medical and now recreational marijuana market in Colorado. A trip to any Denver dispensary will have at least a few good brownies, chocolate bars or suckers, among many other types of infused snacks.
One of the best things about using cannabis in an edible form is that it can often be much more discreet and easy to take than smoking, for a few obvious reasons. For those that don't like chocolate or want an even more disguised edible, mints and infused gum are good options.
I recently got the chance to try Lick It Strips, easily one of the best edibles to take for travel or any other situation that requires medicating on the down-low. Made by Canyon Cultivation, these are breath strips in the vein of Listerine Pocket Packs or some other similar, jel-like strip.
With 10 mg in each strip for a total of 200 mg in a package, Lick Its are priced around $20 in most medical marijuana dispensaries in Colorado. As far as I've seen, nothing from Canyon Cultivation is available in the recreational marijuana market, though customers should be patient for these and many other popular edibles to hit the market in the next few months, as overall supply is allowed to catch up with the very high demand.
 The retail price is decent enough, but the ease of use is really what makes this edible a good option for those needing something quick. The cinnamon flavor is still a bit hashy and might not sit well with those that don't like to taste any cannabis in their edible. Unlike chocolate or even granola that covers up the taste, the gel tabs don't do much to disguise the distinctive weed taste. Luckily the strip melts fairly quickly, though the red hot cinnamon flavor does stick around in the palate for a few minutes too long.
Overall the effect is a nice hybrid, though maybe a bit too sleepy for anyone that wants to use a lot during the day. Those with higher tolerances will only want to take 1 or 2 strips tops to not risk getting too debilitated, as these do creep up on you pretty quickly.
Lick It Strips are definitely a great way to go for those wanting something easy and discreet, even if the taste and effect can be a bit intense. Check out these and other Canyon Cultivation products next time you stop in at your local marijuana dispensary!