In a great stride for the future of medical cannabis, the AHP (American Herbal Pharmacopoeia), who's mission is "to promote the responsible use of herbal products and herbal medicines" officially classified cannabis as a "botanical medicine." The AHP's designation of cannabis as medicine doesn't carry the same gravity as, say, the FDA or other federally powered oversight organizations, but it is a big leap forward.
Scientific scrutiny and measurable, repeatable results are core underpinnings of judging a viable medication. The AHP is staffed by "a worldwide network of botanists, chemists, herbalists, medical doctors, pharmacists, pharmacologists, and other experts in medicinal plants. They include university professors, practitioners, researchers, regulators, and experts in industry." These are some good voices to have in our camp.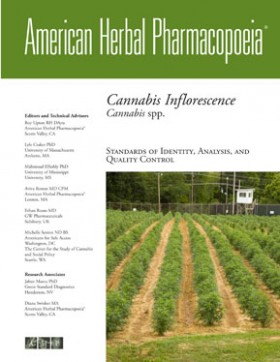 In addition to the awarding of the "botanical medicine" title, the AHP also published the first of a two part monograph series about cannabis. From the ASA (Americans for Safe Access) press release regarding this move, "AHP released the first installation of a two-part Cannabis monograph today that classifies cannabis (marijuana) as a botanical medicine, alongside many other widely accepted Complementary and Alternative Medicines.
The primary focus of all AHP monographs is to "provide testing standards that provide scientifically valid ways for ensuring the identity, purity, potency, and quality of botanical raw materials."
The monograph, entitled Standards of Identity, Quality, and Testing, will be followed late this spring by the Therapeutic Compendium. This is important for the patients, doctors, and researchers, all of whom will benefit from having proven testing standards that can quantify the key cannabinoids that affect therapeutic effects, as well as identify potentially harmful pesticides, metals, and microbes."
Truly great news. Not only do these monographs stilt our struggle with more legitimacy, they will undoubtedly help in the quest to produce a more pure and potent form of cannabis.