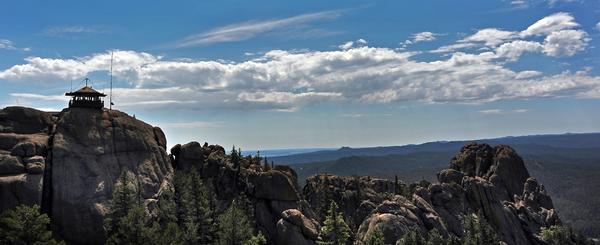 For a moderate hike with a sweet reward, consider Devil's Head Fire Lookout and Trail. I went to Devil's Head a few weeks ago for the first time, and it left me wondering why I hadn't visited this site sooner.
Devil's Head Lookout Trail is a 2.8 mile out and back trail located near Sedalia, Colorado that is primarily used for hiking. The outcropping is home to the only fire lookout in Colorado. The National Forest Service fire lookout tower at the summit of Devil's Head sits on a large pinnacle of Pikes Peak granite at an elevation of 9748 feet.
The first tower was built in 1919, and the current one was built in 1951. The view from the current structure extends at least 100 miles in every direction on clear days. The tower sits at the highest point of Rampart Range. Devil's Head Lookout Tower is the last fire tower that's in service along Colorado's Front Range, earning it a spot on the National Register of Historic Places.
A warning: Rampart Range Road leading up to the trailhead is a rough washboard road, so make sure your vehicle can handle it. Also be prepared to pass numerous ATVs whizzing by on the road.
Devil's Head trail is great for kids and dogs (dogs must be on leashes) and is accessible from March to November. The trail is described as easy to moderate, but I found it to be a little challenging due to the fact that I'm a beginner hiker.
You can also camp at the base of the trail, where "rock formations dot the landscape and provide outstanding views of the surrounding area." The majority of the trail is shaded by a mixed Aspen and Pine forest, and there are plenty of benches to rest and catch your breath if needed. The halfway point is even marked with a sign.
After the trail, there are 146 steps to the tower, where there is a ranger who is happy to talk to visitors about the tower's history and purpose. The ranger's modest dwelling is visible during the hike. Apparently, the rangers take turns weekly at the tower and little house. Seems like a great job to me!
I highly recommend Devil's Head for a day trip with your family, a friend, or even by yourself!