San Francisco is the birthplace of the hippie movement, the Summer of Love, psychedelic music, and more recently, the medical marijuana movement that has changed so many people's lives for the better. And although you can't yet legally toke while walking down the street, you're probably less likely to get in trouble for that particular peccadillo in San Francisco than anywhere else in California. "Even the cops grooved with us," as Eric Burdon sang long ago.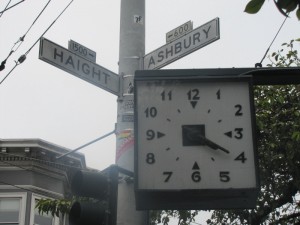 So let's say you're a weedist visiting the San Francisco area, and you're bored with the usual Pier 39 tourist nonsense. Navigate yourself to the most famous corner in hippie history, Haight and Ashbury Streets, where it's literally 4:20 all the time! I've been there many times and it never fails to send shivers down my spine.
Walking around the neighborhood and checking out the cool head shops, cafes, restaurants, and even the touristy places are a lot of fun, and it never hurts to have your head on an appropriate level for the scene, if you know what I mean. Try to avoid weekends, though, as things get a little crowded.
While you're here, don't miss seeing some of the houses that were previously lived in by famous and infamous figures from the 60s and 70s, such as Janis Joplin, Country Joe McDonald, Charles Manson, and the Grateful Dead…who lived right across the street from the Hell's Angels.
And if you are a legal California MMJ patient, get yourself some bragging rights by visiting the only cannabis dispensary actually on Haight Street (at least, that we know of).
When you've ingested enough coffee or food or edibles and are ready for some more air and adventure, walk west on Haight Street towards the ocean until you can't go any further, turn right on Stanyan Street, then left into Golden Gate Park until you find your thrill on Hippie Hill. If you didn't feel the authentic hippie vibe in the Haight, you will almost certainly find it here. It's almost like a permanent time warp right back to the sixties, when people knew both how to hang out and let it all hang out (and I'm not talking about casual nudity here). There are almost always cool people hanging out, playing drums, smiling, smoking weed, and so on. But hey…if you happen to go on one of the bad days where there are uncool people…sometimes that can happen too. Just stay loose, but not too loose.
Not to be a PIA but you can smoke most anywhere in the city without hassles, just pay attention. The popo have far more important things to do like keeping the crazies in check, busting dealers, etc.
Born and raised in the city I still return there several times a week and have never seen anyone busted for smokingsmoking and yes I was all over the Haight in the 60's ;-)
Cheers