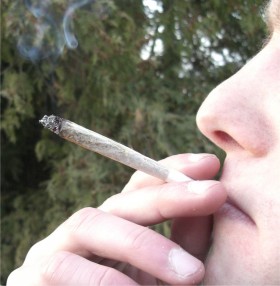 Love is hate. Freedom is slavery. And if Hawaii has its way, pot will be decriminalized but illegal.
Its state senate unanimously passed a proposed law that would allow the personal possession of weed (up to an ounce), according to Honolulu's KITV. While it seems Hawaii decriminalizes possession with this proposed law, it would fine those caught with that personal use of weed $1,000.
Lawmakers say the fine would emphasize that possession is still illegal. However, local law enforcement is coming out against the bill because it could make enforcement difficult.
Hawaii trends strongly Democrat since it was accepted as a state in 1959 . There's been only one Republican governor since statehood.  However, it approaches many issues like a small town. There's no billboards and it's one of a few states that has no gambling  — not even a lottery. There's a medical marijuana law on the books. But no dispensaries.
With pot legal in two states and a wave of growing public opinion that wants to legalize it, Hawaii is advised to look at cannabis — and real decriminalization — as a new cash crop and plus to tourism.
Pineapples and sugar cane, once the main agricultural exports in Hawaii, have gone to countries where labor is cheaper. But with legalized pot, what well-off stoner in Seattle or Boulder wouldn't pay premium prices for Puna Gold?  And as Jennifer Lawrence has shown, in the last few days, people want to spark up a spliff when they're in the islands. Isn't that the whole point of traveling — getting what you can't get at home?
Sun, surf, sand and a bong hit. You can't get that in Terre Haute.