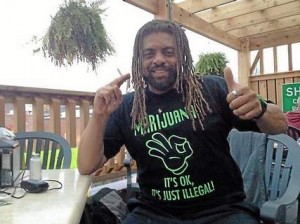 In a stunning victory for the power of juries, Ed Forchion (aka NJ Weedman, a very visible medical marijuana activist) was found not guilty today of possession of marijuana with intent to distribute by unanimous jury decision.
Forchion, a legal medical marijuana patient in California, was on trial after being arrested two years ago with a pound of marijuana in New Jersey. Prosecutors claimed that this was an excessive amount of cannabis to have to personal use, even for medical reasons. Evidently there are unfamiliar with the quantities necessary to relieve the severe pain of bone cancer, the particularly painful type that Forchion happens to suffer from.
Even though New Jersey has had a medical marijuana program theoretically in place for awhile now, not a single dispensary has opened anywhere in the state yet, forcing patients to break the law in some way to obtain their medicine. Sounds pretty medieval to me, and apparently the jury agreed.
Another bright spot in these proceedings is that Ed Forchion acted as his own lawyer. While most people can't pull this off well, Forchion's confidence, honesty, and genuine medical need clearly helped him win the case. Patients and caretakers from New Jersey to California should cheer this turn of events!